Motorola Moto Z Droid
Info Photos News Forum 9 Hands-On › Our Review ›
Motorola today said it will update a significant number of its smartphones to Android 8 Oreo. Those devices on deck for the latest version of Android include the 2016 Moto Z, Z Droid, Z Force Droid, Z Play, and Z Play Droid, as well as the 2017 Moto Z2 Play, Z2 Force Edition, X4, G5, G5 Plus, G5S, and G5S Plus. It appears that Motorola's E and C series devices will not be updated to Oreo. Motorola said that in addition to the core Oreo code and Google Play Protect, the updates should improve handset speed, battery life, multitasking, text selection, notifications, and autofill behaviors. The updates will arrive on a per handset basis beginning later this fall.
---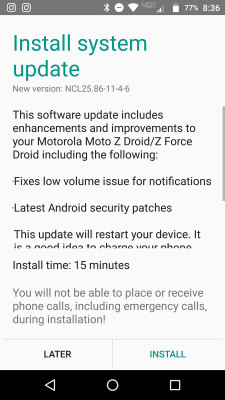 Verizon Wireless has begun distributing a minor system update to the Motorola Moto Z Droid and Moto Z Force Droid. According to the change log, the update applies the most recent security patch (Jan. 1, 2017) and also improves the notification volume. The update is free to download and install over the air.
---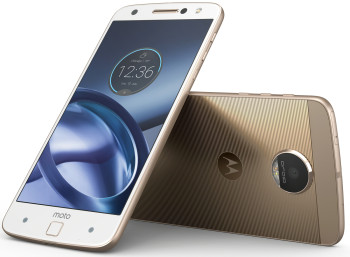 Verizon Wireless today began accepting preorders for the Motorola Moto Z Droid and Moto Z Force Droid, which will reach stores on July 28. The Moto Z costs $624 ($26 per month) and the Z Force costs $720 ($30 per month). Verizon customers may trade in their current flagship smartphone for up to $300 to put toward either Moto Z handset, or older phones for up to $200. Verizon Wireless also shared pricing details on the Moto Mods modular accessories that attach to the back of the Moto Z and Z Force: the JBL SoundBoost speaker costs $80, the Moto Insta-Share Projector costs $300, the Tumi power pack costs $60, the Kate Spade New York power pack costs $90, and Incipio's rear plates cost $15 each. The Moto Mods attach to the Moto Z and Z Force via magnets and enhance the capabilities of the phone. Verizon said that, for a limited time, customers who purchase one Mod with their Moto Z will receive 20% off any additional Mods they buy. The Moto Z and Z Force are Android smartphones. Each has a 5.5-inch quad HD screen, Snapdragon 820 processor with 4 GB of RAM and 32 GB of storage, USB-C with QuickCharge, and fingerprint reader.
---
Jim Wicks, Motorola's head of design, plans to leave the company for a faculty position at Northwestern University, according to Crain's Chicago Business. Wick has led Motorola's design team for a dozen years, and has been with the company for more than 15. He's responsible for handsets such as the RAZR and Droid. "We greatly appreciate Jim's contributions in leading a consumer experience design team that delivered standout, iconic, and award-winning industrial design and user experiences for Moto's mobile and wearable products," said Lenovo in a statement provided to Crain's. Lenovo owns Motorola. The company said Ruben Caetano will take Wicks' place in Lenovo's Chicago office. Wicks' departure follows closely that of former Motorola CEO Rick Osterloh, who defected to Google earlier this year.
---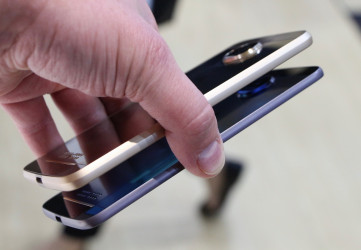 Motorola's new Droids take a modular approach that, at first glance, is compelling. Motorola hopes people will buy into the idea of enhancing their Moto Z Droid and Moto Z Droid Force with hot-swappable modules that add speakers, power, and more to the phones. Here is a first look at these exclusives for Verizon Wireless.
---
Lenovo's Moto unit said the Moto Mods, which attach to the new Z Droid and Z Droid Force smartphones, will be forward compatible with future devices. Lenovo said it has settled on a basic design size and shape for its smartphones that it will carry forward so forthcoming handsets will be able to use the existing set of Moto Mods. Moto imagines people will share and swap the Mods as needed. Moto plans to release a developer kit this summer so third-party companies can create their own Moto Mods.
---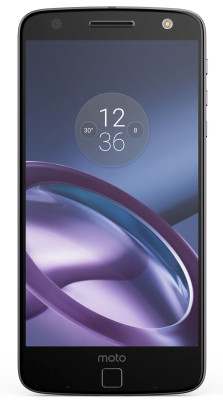 The Lenovo Moto Z Droid and Z Droid Force, announced today, will be exclusive to Verizon Wireless when they go on sale later this summer. Verizon said preorders will kick off in July, but hasn't yet said exactly when the phones will reach stores. Moto said the two phones will eventually be sold unlocked in September. Consumers will be able to buy them directly from Motorola's web site.
---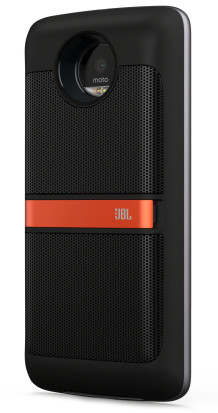 Motorola today showed off the Z Droid and Z Droid Force handsets, which are compatible with magnetic modules that attach to the back. The Z Droid and Z Droid Force will have access to a handful of Moto Mods at launch, but Motorola hopes other companies will make Mods, too. Motorola plans to make an SDK available to companies so they can design and develop their own Mods for the Z Droid line of phones. Motorola has already partnered with JBL, TUMI, and kay spade new york.
---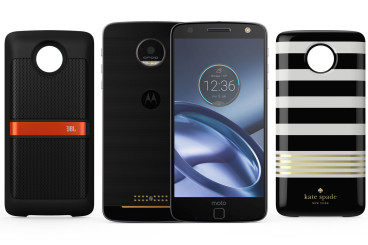 Motorola today announced two new smartphones, the Moto Z Droid and Moto Z Force Droid, both of which adopt a modular design that allows users to enhance them with attachable accessories. The phones are spiritual successors to last year's Turbo 2 and Maxx 2 handsets, but take on new design language in addition to support for the Moto Mods modules. Unlike LG's G5, which features modules that insert into the bottom of the phone, Moto Mods attach to the back of the Moto Z Droid and Moto Z Droid Force magnetically. This allows owners to swap the modules more easily, and without requiring device reboots. The first batch of modules includes JBL SoundBoost stereo speakers, Moto Insta-Share Projector, and battery packs from TUMI and kate spade new york. Shared features between the phones include 5.5-inch quad HD screens, Snapdragon 820 processors, fingerprint readers, 5-megapixel selfie cameras, USB-C ports, and water-repellent coatings. The run Android 6.0 Marshmallow.
Moto Z Droid: The Z Droid is thin and light with an aluminum body, 13-megapixel camera, and 2,600mAh battery with rapid charging.
Moto Z Force Droid: This hardier handset makes use of second-generation Shatter Shield technology from Motorola for an unbreakable screen. Motorola says its new Shatter Shield tech is thinner, stronger, and has narrower edges. The Z Force improves the battery to 3,500mAh with rapid charging, and bumps the camera up to 21 megapixels.
The Moto Z Droid and Z Droid Force will both be sold by
Verizon Wireless
later this summer. Pricing was not disclosed.
---