Motorola Moto G4
Info Photos News Forum 5 Reviews 2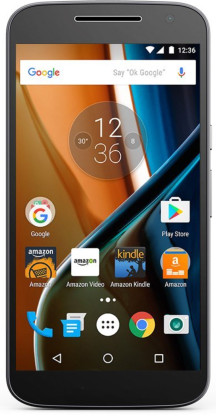 Amazon today announced a new promotion that will allow Amazon Prime subscribers to buy unlocked handsets at reduced prices. The first two phones eligible for the promotion include the Motorola Moto G4 (pictured) and the Blu R1 HD. Amazon said the Moto G4 will cost $150, rather than $200, and the Blu R1 HD will cost $50, rather than $100. There's a big catch, however; people who buy these phones will be required to watch ads. "The breakthrough pricing on unlocked smartphones is supported by personalized offers and ads," explained Amazon, "including deals and product recommendations, displayed on the phone's lockscreen. When a customer sees an offer, they can tap to learn more about it or simply unlock their phone to dismiss." Amazon uses a similar model to discount the price of its own Kindle-branded e-readers. Both the Moto G4 and Blu R1 HD go on sale July 12. For a limited time, Prime subscribers can get an additional $25 off the G4, dropping the total price to $125.
---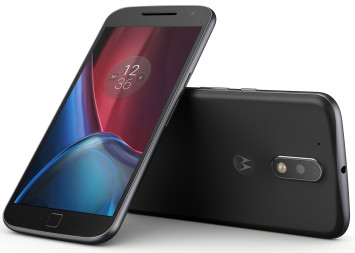 Motorola today said its fourth-generation G series smartphones will go on sale beginning July 12. The G4 will cost $199 and the G4 Plus (pictured) will cost $249. The phones will be sold by Amazon.com, Best Buy, BrandsMart, B&H, CarToys, Fry's, MicroCenter, Motorola.com, Sam's Club, and Walmart. Further, Republic Wireless will offer both phones with its service starting July 28. The Moto G4 and G4 Plus are sold unlocked with support for most U.S. carriers, including AT&T, Sprint, T-Mobile, and Verizon Wireless.
---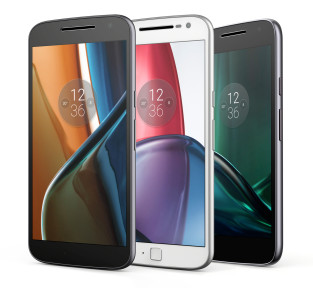 Motorola today announced the fourth-generation Moto G, which is a trio of handsets rather than a single phone. All three devices, which include the Moto G, Moto G Plus, and the Moto G Play, run Android 6.0.1 Marshmallow and feature slimmer designs than previous generations. The phones share a variety of functions, such as support for LTE, Bluetooth, GPS, WiFi, sensors, and micro USB. The first two phones both include 5.5-inch full HD screens, 1.5 GHz Snapdragon 617 processors with 2 GB of RAM and 16 GB of storage.
Moto G: The main model includes a 13-megapixel main camera with an aperture of f/2.0, dual-LED flash, and HDR. The front camera captures wide-angle, 5-megapixel images and boasts a display-based selfie flash. Both can capture full HD video. The Moto G ships with a 3000mAh battery and supports Quick Charge. Consumers can personalize the G via Moto Maker.
Moto G Plus: The G Plus carries over most features from the G. It chiefly steps up the main camera to 16 megapixels and allows for greater customization of RAM and storage. It also adds a fingerprint reader for security.
Moto G Play: The low-end model steps the display down to 5 inches at 720p HD, drops the processor to a 1.2 GHz Snapdragon 410, lowers the main camera to 8 megapixels at f/2.2, and reduces the battery to 2800mAh. It supports rapid charging, but the charger is not included with the phone.
Motorola said that Moto G family will go on sale in select markets soon, including North America. The devices are sold unlocked with support for GSM-based carriers. Price points were not disclosed.
---