Alcatel Idol 4S
Info Photos News Forum 4 Hands-On › Our Review ›
BlackBerry today said moving forward TCL Communications, the parent company of Alcatel, will be responsible for designing, manufacturing, selling, and supporting all BlackBerry-branded smartphones. The companies struck an agreement that sees TCL licensing BlackBerry's security software and service suite along with the BlackBerry brand. TCL has already made two BlackBerry smartphones, the DTEK50 and DTEK60, which are variants of the Alcatel Idol 4 and Idol 4S, respectively. BlackBerry said it will continue to control and develop its security and software solutions, as well as serve enterprise customers' needs. BlackBerry called the agreement "a key step in our strategy to focus on putting the 'smart in the phone' by providing state-of-the-art security and device software on a platform that mobile users prefer and are comfortable with. We are confident that BlackBerry-branded products developed and distributed by TCL Communication will address the needs of BlackBerry users and expand the availability of BlackBerry Secure products throughout the world." BlackBerry has been winding down its own hardware business for some time and in September announced plans to halt making smartphones altogether. At the time, BlackBerry had not yet named a manufacturing partner.
---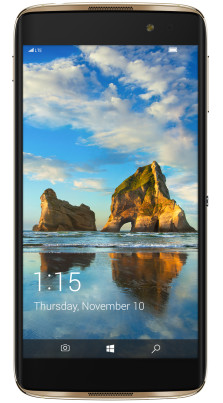 Alcatel today announced a new variant of the Idol 4S with Windows 10 Mobile on board. This handset carries over the chassis of the Android-based model, but changes a number of key specifications. For example, the Windows Idol 4S has a 5.5-inch full HD display and Snapdragon 820 processor, which differ from the quad HD display and Snapdragon 652 processor of the original. Further, the Windows version improves the camera to 21 megapixels and swaps microUSB for USB Type-C. Most other specs are the same. The Idol 4S with Windows 10 has a wide-angle 8-megapixel selfie camera, 3,000mAh battery, 4 GB of RAM, 64 GB of storage, stereo speakers, and a rear-mounted fingerprint sensor. The Idol 4S with Windows is compatible with Continuum, which enables it to act like a full PC with the proper accessories. It will be packaged with a set of virtual reality goggles for a limited time. The Idol 4S with Windows 10 hits T-Mobile stores November 10 for $470.
---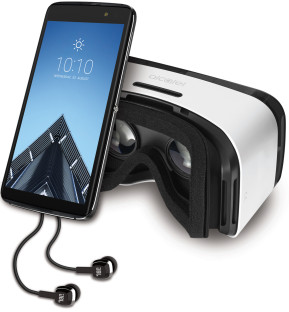 Alcatel today announced launch details for the Idol 4S phone. The company added a fingerprint sensor to the US variant of the phone, a feature not included when the Idol 4S was first announced in February. Alcatel will begin taking Idol 4S preorders from its own web site on July 15. The package includes the phone, VR goggles, 2.5D tempered screen protector, JBL headphones, and a protective case from Incipio. People who order the Idol 4S between July 15 and August 3 will pay $350 for this bundle. After August 3, the standard sale price of $399 goes into effect. The company is offering financing for those who need it, with payments starting at $37 per month for 12 months. Alcatel is charging significantly more for the Idol 4S than it did for the Idol 3 ($250), but claims the goggles, case, and headphones make up the difference. The phone is sold unlocked and is compatible with most U.S. LTE bands. Of note, the Idol 4S will not support Band 12 at launch, but will shortly thereafter through a software patch from Alcatel. The Alcatel Idol 4S has a glass-and-metal design, 5.5-inch quad HD screen, octa-core Snapdragon 652 processor with 3 GB of RAM, 16-megapixel Sony camera, 3,000mAh battery with Quick Charge, and stereo speakers. The phone runs Android 6.0.1 Marshmallow and Alcatel says the Idol 4S will see Android 7 Nougat in a future update. Alcatel does not have any immediate plans to bring the Idol 4, a smaller version of the 4S, to the U.S. market.
---
Alcatel's new flagship phone for 2016 is the Idol 4S. It's accompanied by the Idol 4, a smaller and more affordable cousin. Both phones sport a "reversible" design similar to last year's Idol 3, but with a more premium metal frame and glass back. The specs on the 4S are impressive, and not too shabby on the 4, either. There are small differences that are only apparent upon close inspection. Read on for our hands-on impressions.
---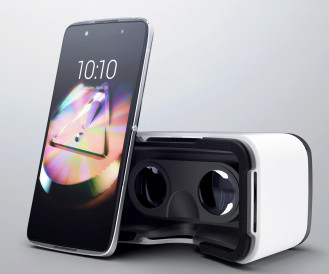 Alcatel today announced the Idol 4 and Idol 4S, the company's new top-end phones. Both phones sport a premium design with metal frame, and glass front and back. Both also include 3.6-watt JBL stereo speakers and come with JBL earbuds. Like the Idol 3, the Idol 4 series is revisable, so it can be held in any orientation and the screen and speakers will flip to be right-side-up. The larger 4S model comes (in some markets) in packaging that doubles as virtual reality goggles when used with the phone. The 4S also has a 5.5-inch quad-HD OLED display, Qualcomm Snapdragon 652 processor, 16-megapixel camera, and 32 GB of internal storage. The smaller Idol 4 has a 5.2-inch full-HD LCD display, Snapdragon 617 processor, 13-megapixel camera, and 16 GB of storage. Both models have 3 GB of RAM, 8-megapixel front camera, NFC, Cat 6 LTE, memory card slot, Android 6.0, and fast charging. The Idol 4 series will ship first in Europe in the second quarter of this year, to be followed by the U.S. later in the year.
---
Alcatel OneTouch today inadvertently revealed details of the unannounced flagship Idol 4S and Idol 4 smartphones on its own web site. Similar to last year's Idol 3, the Idol 4S and 4 will be available in two different sizes. The Idol 4S has a 5.5-inch quad HD screen while the Idol 4 has a 5.2-inch full HD display. Shared features include support for LTE networks, dual-band WiFi, GPS, NFC, and Bluetooth 4.2. The phones include stereo speakers and Alcatel's reversible user interface, so they can be used upside down. Basic specs show the Idol 4S will ship with an octa-core Snapdragon 652 processor with 3 GB of RAM, 32 GB of storage, and support for memory cards up to 512 GB. The Idol 4S also includes a 16-megapixel main camera with slow-motion video capture, an 8-megapixel selfie cam, and a 3,000mAh battery. The Idol 4's specs are stepped down just a bit. It will ship with an octa-core Snapdragon 617 processor, 2 or 3 GB of RAM, 16 GB of storage, and support for microSD cards. It packs a 13-megapixel main camera and a wide-angle 8-megapixel user-facing camera. It includes a 2,610mAh battery. Both phones will run Android 6.0 Marshmallow out of the box. Alcatel OneTouch has not officially announced these phones, so pricing and availability are not yet known.
---