Samsung Galaxy Express Prime / Galaxy Amp Prime / Sol / Galaxy J3 (2016, GSM)
Verizon Wireless says families of four can get 16 GB of mobile data for $150 per month thanks to a new bonus data promotion. Verizon charges $70 per month for its 8 GB (or, L) plan. Families that subscribe to the L, XL, and XXL plans can score an extra 2 GB of data per line. The bonus data is only available when customers activate a new line or upgrade an existing phone. Verizon says the bonus data will be available to each line as long as it remains active on Verizon's network. Bonus data will not carry over month-to-month. The $150 monthly price includes the $70 data charge, plus $80 in line access fees for four smartphones. Taxes and handset payments are not included. Verizon says the bonus data promotion will be available for a limited time. Customers who activate new lines of service will be eligible to receive a Samsung Galaxy J3 V handset for free ($7 bill credit applied on a monthly basis for 24 months). Verizon will allow new customers up to five free J3 Vs per account.
---
AT&T today announced that its GoPhone prepaid customers can buy one eligible phone and receive a second for free. The buy one, get one deal goes into effect July 22 and includes phones such as the Samsung Galaxy Express Prime or LG Phoenix 2. The handsets must each cost at least $59.99 in order to be eligible for the buy one, get one deal. Customers must activate both devices on either the $45 or $60 monthly GoPhone plan. The promotion runs through September 22. GoPhone does not require credit checks or contracts.
---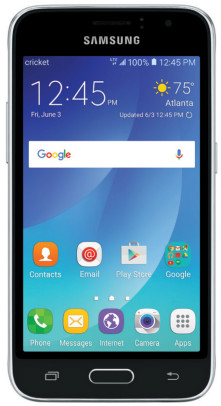 Cricket Wireless today announced the Galaxy Amp Prime and Galaxy Amp 2 (pictured), two low-cost Android smartphones from Samsung. Both devices ship with Android 6.0 Marshmallow and Samsung's software customizations, such as Quick Launch for the camera. The Amp Prime and Amp 2 both support micro SD memory cards up to 128 GB.
Amp Prime: This phone features a 5-inch screen screen and a 5-megapixel camera. The phone has Samsung's Easy Mode home screen experience, as well as Ultra Power Savings Mode to extend battery life. The Galaxy Amp Prime will available online and in stores on April 8th, for $149.99.
Amp 2:This smaller phone has a 4.5-inch 800 x 480 screen, 1.3 GHz quad-core processor, 5-megapixel main camera, and 2-megapixel front camera. The phone has a 2,050mAh battery. It will be available starting April 15 for $99.99.
---