LG V10 (GSM)
Info Photos News Forum 14 Reviews 8
LG has reached an agreement with lawyers representing owners of select smartphones and will offer impacted class members cash. The settlement puts to rest the bootloop problem that plagued a number of LG smartphones, including the G4, G5, V10, V20, and Nexus 5X. Manufacturing defects led the devices to crash and then automatically reboot, rendering them useless. LG is offering members of the class their choice of either a $425 cash settlement or a $700 rebate toward the purchase of a new LG phone. Members of the class can fill out a proof of claim form and should expect to hear directly from the law firm at hand. Payments will be distributed at the beginning of March.
---
LG today said it plans to provide the Android 7 Nougat system update to its mid-2015 flagship phone, the G4, and its late-2015 high-end camera handset, the V10. The company said in a blog post that these phones were designed with Android 5 and Android 6 in mind, but customer feedback has forced LG to rethink its position on the phones' software. The company expects to have Android 7 ready for the V10 by the second quarter of this year, with the G4 to follow during the third quarter. LG says this upgrade schedule applies only to the G4 and V10 in Korea. The company will announce Android 7 Nougat update plans for the G4 and V10 in other markets at a later time.
---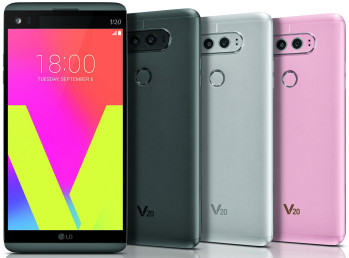 LG today announced the V20 at an event in San Francisco. The handset is a follow-up device to last year's V10. The defining feature of the V series is the Second Screen, a small, always-on display that sits atop the main display on front. The Second Screen can be used to serve notifications as well as access app shortcuts and other content. LG picked aluminum to form the frame and a silicon-based material for the back panel. LG says this silicone polycarbonate is found in helmets and reduces shock. It helped the device earn a mil-spec rating of 810G for protection against drops. The V20 features a 5.7-inch quad HD display, Snapdragon 820 processor with 4 GB of RAM, 64 GB of storage, and memory card slot. The phone includes several cameras, including a 16-megapixel rear camera with f/1.8 aperture and optical image stabilization. The phone also packs a secondary 8-megapixel rear camera with 135-degree wide-angle field of view and an f/2.4 aperture. The selfie camera has a 5-megapixel sensor with f/1.9 aperture. Other camera features include 4K video capture, high-fidelity sound capture, Steady Record 2.0 electronic image stabilization to minimize video shaking, and hybrid autofocus, which is a combination of laser-assisted and phase-detection autofocus. LG claims the V20 is the first phone to ship with a 32-bit, Hi-Fi quad DAC to reduce distortion and ambient noise, as well as support lossless music formats. The phone features Qualcomm's X12 LTE model for CAT12 at speeds up to 600Mbps (network dependent) in addition to Bluetooth 4.2, WiFi, GPS, and USB Type-C. The 3,200mAh battery is removable and supports Quick Charge 3.0. The V20 includes a fingerprint scanner for biometric security. The phone will be the first to ship with Android 7 Nougat and a new search tool from Google called In Apps. The In Apps tool will be accessible from the Second Screen so app search is always under your thumb. The V20 introduces LG's fifth-generation user interface, which LG says is an upgrade from the UI seen on the G5 earlier this year. The LG V20 will be available in Korea starting this month followed by other regions over time.
---
LG today shared more details about the successor to last year's V10 smartphone. LG confirmed that the new device will be called the V20 and that it will be revealed in September. Moreover, LG said the V20 will be among the first devices to ship with Android 7 Nougat. Google hasn't released the final version of Nougat yet, but is expected to sometime this month. LG didn't say exactly when the V20 will be announced, but the IFA trade show takes in Berlin in early September. The V10 was unique thanks to its dual-selfie cameras and secondary display for notifications and other content. LG implied the V20 will carry over these and other features.
---
LG today reported its second quarter earnings and took the opportunity to tease a forthcoming handset. LG's mobile business increased revenues 12% from the first quarter to $2.86 billion, but "somewhat slow" sales of its G5 flagship and the associated marketing costs led the unit to a loss of $132 million. Total device shipments were up 3% to 13.9 million during the three months ending June 30. The company expects things to get back on track during the next few months. "The launch of the new V series and expanding sales of mass-tier K and X series models are expected to improve the business unit's performance next quarter." LG brought the V10 handset to the U.S. last year. It was a semi-rugged phone with powerful cameras. LG didn't name the new V series handset, but it is likely a successor to the V10. The timing of the launch is unclear. LG's K series devices are mostly entry-level offerings, while the X series fill in the mid-range tier.
---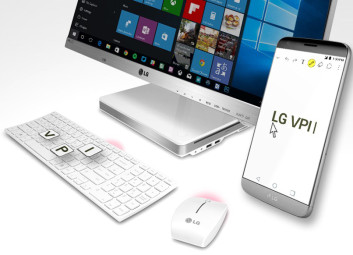 LG recently announced VPInput, an app for PCs and select LG handsets that makes Bluetooth pairing a breeze. More than simply connecting the devices, VPInput lets LG smartphone owners control their device using the PC's mouse and keyboard. LG is pitching the app as "a convenient solution when you're at your desk but want to check your phone without interrupting your workflow." For example, VPInput can be used to copy text from a Word document on a PC and then paste it into a document on a smartphone, or take a screenshot on a phone and display it on the PC screen. Further, function keys on the PC can be used as shortcuts to launch certain apps or tools that are on the smartphone. VPInput is free to download from the Google Play Store, but is only compatible with the LG V10, G4, and G5 smartphones.
---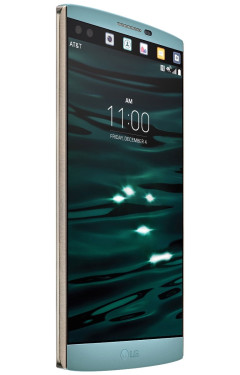 AT&T and T-Mobile today provided details about their respective plans to sell the LG V10 smartphone. AT&T will begin accepting orders online Oct. 27, and the V10 will reach stores Nov. 6. AT&T is offering a 200GB memory card with the V10 purchase. AT&T is asking for $23.34 per month with a Next 24 plan, or $29.17 with Next 18, $35 with Next 12, or $249.99 with a two-year contract. T-Mobile will commence online sales of the LG V10 on Oct. 28 and in-store sales on Oct. 30. T-Mobile is asking for a monthly payment of $25 when enrolled in Jump On Demand. Alternately, customers can pay $599.99 up front, which T-Mobile says is $100 off the list price of $699.99. The V10 is notable thanks to its extra front display, used for revealing alerts and select controls. The V10 has a 5.7-inch had HD screen, 16-megapixel main camera, dual 5-megapixel front-facing cameras. The phone has a hardened exterior for shock resistance and is powered by a Snapdragon 808 processor. It ships with Android 5.1 Lollipop.
---
LG's new V10 smartphone offers some unique features, including a secondary screen for shortcuts and notifications, and a pair of user-facing cameras for more fun with selfies. Here are our first impressions of this new phone from LG.
---
LG today said the V10 will be sold in the U.S. by AT&T, T-Mobile, and Verizon Wireless. Pricing and availability will be announced individually by each carrier. The phone is expected to arrive in the weeks ahead.
---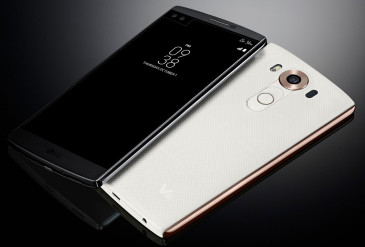 LG announced the V10, a flagship smartphone that includes a ticker display, double cameras, and a more rugged design than some of LG's previous handsets. The main screen measures 5.7 inches and has quad HD resolution, while the secondary display, which sits above the main one, measures 2.1 inches and has 1040 x 160 pixels. LG says the Second Screen can set to be always on for notifications and status indicators with no impact on battery life. Moreover, the Second Screen can handle notifications while users do other tasks, such as watch videos, without disturbing what's on the main screen. The rear-facing camera has optical image stabilization, an f/1.8 aperture, and captures 16-megapixel images. The front of the V10 features dual 5-megapixel cameras that can act together to capture images with a 120-degree field of view with no optical distortion. The V10 includes a manual video mode, which allows users to adjust white balance, exposure, shutter speed, and frame rate. It captures 1080p, 2K, or 4K video in either 16:9 or 21:9 aspect ratios. Other video camera functions include stabilization, audio monitor, video editor, wind noise filter, and quick-sharing features. Unlike some of LG's previous phones, the V10 relies on a stainless steel frame with "Dura Skin" on the back to protect against drops and knicks, and aid in grip-ability. The V10 has a 32-bit high-fidelity DAC by ESS Technology for improved audio reproduction. Other features include a Qualcomm Snapdragon 808 processor with 4GB of RAM, 64GB of storage, and support for memory cards up to 2TB. The phone has a 3,000mAh battery that can be removed, and it supports Bluetooth 4.1, 802.11ac, GPS, NGC, and LTE. It runs Android 5.1 Lollipop and comes with the usual set of LG apps, such as Knock Code. The LG V10 will be sold in black, white, beige, and two shades of blue. It will launch in Korea this month, followed by the U.S. and other countries in the near future.
---