Samsung Galaxy S6 edge+ (GSM)
Info Photos News Forum 11 Reviews 1
AT&T this week began distributing Android 7 Nougat to the Samsung Galaxy S6, S6 edge, and S6 Active. Along with the new version of Android, the update introduces Samsung Cloud, Samsung Pass, and a wide range of bug fixes and performance improvements. According to AT&T, the update will remove the AT&T Address Book and MobiTV apps, while it brings the security patch level up to April 1, 2017. The new operating system is rolling out to these phones already. AT&T updated the Galaxy S6 edge+ to Nougat earlier this year.
---
Samsung has detailed which handsets will receive the Android 7 Nougat operating system update. Some of the core changes to the platform include a refreshed Quick Settings panel, OS-level support for split screen multitasking, four new performance modes, and Samsung Pass, which allows people to secure various aspects of their Samsung account with a fingerprint. The company this week began distributing the new operating system to the Galaxy S7 and S7 Edge. It also plans to update the Galaxy S6, S6 Edge, S6 Edge Plus, Note 5, Tab A with S Pen, Tab S2 (LTE), Galaxy A3, and Galaxy A8 to Android 7. As for timing, Samsung said this collection of devices should see Nougat at some point during the first half of the year.
---
T-Mobile and Verizon Wireless are sending out the July 1 Android security patch to their variants of the Samsung Galaxy Note 5 and Galaxy S6 edge+ smartphones. Google made the security patch available last week. It plugs a number of holes in the code, including some that could lead to remote code execution. These security updates can be downloaded and installed over the air.
---
AT&T today began distributing the Android 6.0 Marshmallow system update to the Samsung Galaxy S6 Edge+ and Galaxy Note 5. The update includes the standard list of Marshmallow features, such as Now On Tap, Doze, and improved permissions. It also adds support for AT&T Video Calling. The update resolves bugs and security issues and smoothes out performance, as well. AT&T says the update is being pushed out over the air and should be downloaded via WiFi. It may take a few days to reach all users.
---
T-Mobile has begun delivering the Marshmallow system update to the Samsung Galaxy Note 5 and Galaxy S6 Edge+. The update brings the devices from Android 5.1.1 to Android 6.0.1. Marshmallow includes a handful of new features, such as Google Now On Tap, Doze, and advanced app permissions. The S6 Edge+, in particular, is also receiving the improved Edge Panel behaviors from Samsung, which offer more content and a broader set of tools for personalizing the panels. The update clocks in at about 1 GB and must be downloaded over WiFi. T-Mobile recently provided the Galaxy S6 and S6 Edge with the same update.
---
Verizon Wireless today confirmed that it is enabling Samsung Pay on the Samsung Galaxy S6, S6 Edge, Note 5, and S6 Edge+ through a software update. "After the update, customers will be able to download and install the [Samsung Pay] app from the Google Play Store," said Verizon in an email to Phone Scoop. "The update will be pushed out to customers in phases this week." Verizon said S6 and S6 Edge owners can manually download the update via the system settings. Verizon's competitors have already enabled Samsung Pay on their Samsung handsets. The service supports both NFC and MST for mobile payments and is available at a wide range of retail locations. Samsung Pay competes directly with Android Pay on Android smartphones. Android Pay is limited to NFC-equipped retail terminals.
---
Samsung said it will make several monthly device payments for people who buy a new Galaxy Note 5, S6 Edge+, S6 Edge, or S6. Under the terms of the promotion, Samsung will reward customers with up to $120 in payments towards their new phone as long as they register with Samsung and buy the device through an installment plan with their carrier. Customers must purchase the Galaxy smartphone between Sept. 25 and Oct. 9, and claim the promotion by Oct. 16. Samsung will then cover device payments through the end of the year. Further, Samsung is offer a $100 Google Play gift card to anyone who turns in a working iPhone (4s and up) when they purchase the new Galaxy handset. The offer is valid with most U.S. wireless network operators, with the exception of AT&T.
---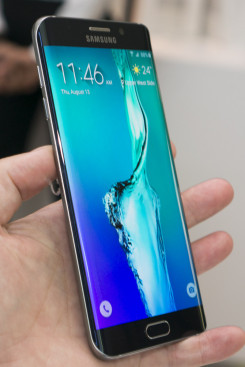 Samsung's new flagship phablets are here and they are impressive. They adopt the high-quality design of Samsung's S6 smartphone and toss in a number of compelling new features to help give them their own identity. Here are Phone Scoop's first impressions of the Galaxy Note 5 and Galaxy S6 Edge+
---
The majority of U.S. wireless network operators will offer the Samsung Galaxy Note 5 and S6 Edge+. AT&T, Sprint, T-Mobile, U.S. Cellular, and Verizon Wireless all plan to sell the new handsets from Samsung. The Note 5 and S6 Edge+ will also be sold by Amazon.com, Best Buy, Costco, Sam's Club, Target, and some Walmart stores. Carriers and retailers will confirm specific pricing and availability details.
---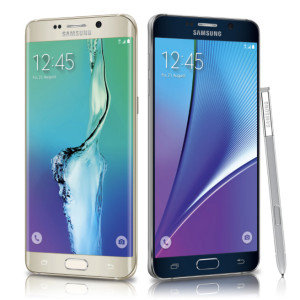 Samsung today announced the Galaxy Note 5 and the Galaxy S6 Edge+. Both handsets adopt the design language seen on the Galaxy S6/S6 Edge, which were announced earlier this year. They feature metallic frames and dual-Gorilla Glass 4 surfaces. The Note 5 carries forward the stylus with dedicated productivity apps, while the S6 Edge+ is essentially a larger version of the S6 Edge. The S6 Edge+ does not have a stylus, but features dual curved screens with content that is visible on the side panels. The Note 5 an S6 Edge+ specs mirror those of the smaller handsets closely. The Note 5 and S6 Edge+ measure 7.6mm and 6.9mm thick, respectively. The Super AMOLED display measures 5.7 inches across the diagonal and includes 2560 by 1440 pixels (quad HD). The 16-megapixel main camera boasts optical image stabilization, auto HDR, and a Quick Launch feature that starts the camera app in less than a second. The user-facing camera rates 5-megpaixels; both have an aperture of f/1.9 for better low-light performance. The two handsets rely on Samsung's 64-bit Exynos 7420 octa-core processor. It pairs two banks of quad-core processors, one clocked at 2.1GHz and the other clocked at 1.5GHz. The processor is paired with 4GB of LPDDR4 memory and UFS 2.0 flash for faster storage performance. The phone includes a 3,000mAh battery that supports both the WPC and PMA wireless charging standards, in addition to quick charging. Other specs include Category 6 LTE, dual-band WiFi, Bluetooth 4.1, ultra power-savings mode and Android 5.1 Lollipop. The Galaxy Note 5 and Galaxy S6 Edge+ will be available in 32GB and 64GB internal storage options. The Note 5 comes in either black or white, and the S6 Edge+ comes in either black or gold. Preorders for the phones start today and they ship August 21.
---