HTC Desire 520
Info Photos News Forum Hands-On ›
Cricket Wireless today announced availability and pricing details for the HTC Desire 520 in addition to a slew of other discounts and deals. The Desire 520 reaches Cricket stores Sept. 11 for $99.99. The 520 is an entry-level Android handset. Cricket is also offering significant discounts to new customers who port their number from another carrier. For example, it will drop the price of the LG Risio from $49.99 to $19.99 and the price of the LG Stylo from $149.99 to $99.99. Customers can grab the Samsung Galaxy S4 for $299, the S5 for $399, or the S6 for $499. Last, Cricket is holding open enrollment for its device protection program, called Cricket Protect. The service covers damage and other issues for $7 to $10 per month, depending on the handset.
---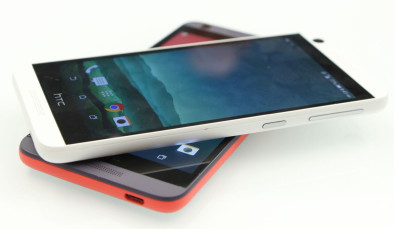 HTC today announced several new additions to its Desire line of mid-range Android handsets. These devices tout style and affordability with a middling set of specs. More importantly, they'll be sold by virtually all U.S. carriers. Here are our initial impressions.
---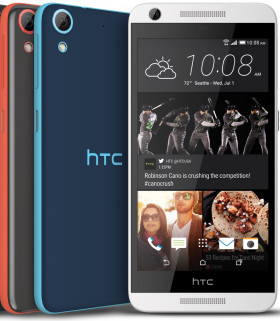 HTC today revealed a new family of Desire handsets. The 626 series (pictured) and 526/520 series share many features, though the former is a bit more mid-range and the latter is decidedly entry-level. Traits common to the 626, 626S, 526, and 520 include Qualcomm's 1.1 GHz quad-core Snapdragon 210 processor; 2,000mAh batteries; single-band WiFi, Bluetooth 4.1, and GPS/GLONASS; support for 2 TB memory cards; and Android 5.1 Lollipop with HTC Sense.
626/626S: In keeping with prior Desire designs, the 626/626S are formed of polycarbonate and have variable color combinations. These larger Desire handsets have 5-inch 720p HD screens and 8-megapixel main cameras with 720p video capture. The 626 has 16 GB of storage, 1.5GB of RAM, and a 5-megapixel user-facing camera. The 626S has 8 GB of storage, 1 GB of RAM, and a 2-megapixel user-facing camera.
526/520:The 526 and 520 share most design features, but differ in some key specs. They have a simple appearance and cheaper materials. The 526, intended for Verizon, has a 4.7-inch qHD screen, 8-megapixel rear camera, 2-megapixel front camera, 8 GB of storage, and 1.5 GB of RAM. The 520, intended for Cricket Wireless, has a 4.5-inch FWVGA screen, 8-megapixel rear camera, 2-megapixel front camera, 8 GB of storage, and 1 GB of RAM.
HTC said these phones will become broadly available from many U.S. carriers, including T-Mobile and MetroPCS, AT&T GoPhone and Cricket Wireless, Verizon Wireless, and Sprint, Boost Mobile, and Virgin Mobile. Pricing, colors, and availability will vary by carrier.
---