LG G4 (GSM)
Info Photos News Forum 10 Reviews 9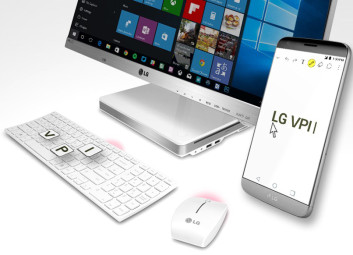 LG recently announced VPInput, an app for PCs and select LG handsets that makes Bluetooth pairing a breeze. More than simply connecting the devices, VPInput lets LG smartphone owners control their device using the PC's mouse and keyboard. LG is pitching the app as "a convenient solution when you're at your desk but want to check your phone without interrupting your workflow." For example, VPInput can be used to copy text from a Word document on a PC and then paste it into a document on a smartphone, or take a screenshot on a phone and display it on the PC screen. Further, function keys on the PC can be used as shortcuts to launch certain apps or tools that are on the smartphone. VPInput is free to download from the Google Play Store, but is only compatible with the LG V10, G4, and G5 smartphones.
---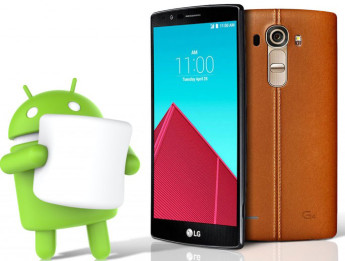 LG today said the G4, its flagship handset, will begin to receive the Android 6.0 Marshmallow system update as soon as next week. LG will first push the operating system upgrade to devices in Poland, followed by other markets in Europe, Asia, and eventually the Americas. Android 6.0 adjusts permissions, boosts power efficiency thanks to Doze mode, and makes it easier to control notifications. The LG G4 is sold by most major carriers in the U.S.
---
AT&T today was the last of the major carriers to disclose its plans for launching the LG G4 smartphone. AT&T said it will begin taking pre-orders for the device at 12:01 am on May 29. The G4 will reach company stores on June 5. AT&T is offering the metallic gray and black leather models, and has several financing options in place for the handset. The gray plastic version is available for $21 per month for 30 months with an AT&T Next 24 plan; $26.25 for 24 months with Next 18; or $31.50 for 20 months with Next 12. Customers may also buy the LG G4 for $199.99 with a two-year contract or for $629.99 at full retail price. The black leather model costs more. It's pricing runs $22.34 per month for 30 months with AT&T Next 24; $29.92 with Next 18; or $33.50 with Next 12. The black model costs $239.99 on contract or $669.99 at full retail. AT&T is also offering the LG G Pad F 8.0 for $0.99 to customers who buy an LG G4. Last, AT&T is offering a 32 GB memory card and battery bundle to those who order the LG G4 early.
---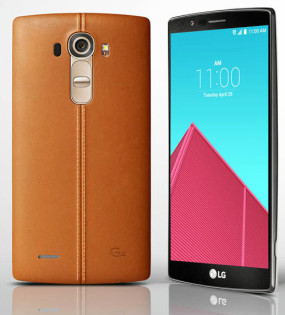 T-Mobile today said it will begin selling its version of the LG G4 on June 3, with preorders beginning May 27. T-Mobile is offering the G4 for the full retail price of $599.76 or for $24.99 per month for 24 months with a Simple Choice. T-Mobile and LG are offering a 128 GB microSD memory card for free with the purchase of a G4 through June 21. T-Mobile says it will be the only U.S. carrier to offer the brown leather back cover for the G4; it also plans to sell the metallic silver model. The LG G4 has a 5.5-inch quad HD screen, Snapdragon 808 processor, and a 16-megapixel camera.
---
LG today said it will begin the global rollout of the G4 smartphone this week. The first countries to see the G4 include Turkey, Russia and Singapore. They will be followed by most of Europe, North America, Southeast Asia, Middle East/Africa, and South/Central America. LG said about 180 carriers plan to sell device worldwide. U.S. carriers have yet to reveal their specific launch details. Most are expected to carry the phone at some point in June.
---
LG is going to let select consumers test the G4 smartphone ahead of the phone's official release in June. Consumers interested in trialling the phone need to register with LG, which will select participants at random. LG said recipients will receive the GSM-compatible phone for free and will be asked to participate in select social media activities and challenges. LG said spots in the trial program are limited. The G4 is LG's flagship smartphone for the year. It features a 5.5-inch quad HD screen, 16-megapixel camera, octa-core Snapdragon 808 processor, and an optional leather battery cover. Most U.S. carriers plan to sell the phone in June.
---
AT&T and Verizon Wireless followed Sprint and T-Mobile today in announcing plans to sell the LG G4 later this year. Neither of the nation's two largest carriers said exactly when the phone will go on sale nor how much they'll charge for the new phone. Verizon did say its variant of the G4 will support VoLTE and HD Voice.
---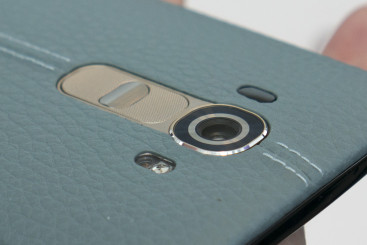 LG revealed the G4 at an event in New York City today. The phone boasts an impressive spec sheet and an optional leather rear cover. LG claims the phone offers superior camera and screen performance when compared to the competition. Here are our initial impressions.
---
Sprint and T-Mobile followed LG's debut of the G4 smartphone with details of their own launch plans. Sprint said it will offer the G4 in black leather and metallic gray. T-Mobile didn't specify which colors it will offer, but is kicking off a preview program for the phone that will let consumers try the device for free. The program is officially a sweepstakes being run by T-Mobile, and it will give away a G4 once per day until the phone reaches stores. Neither Sprint nor T-Mobile said how much they'll charge for the LG G4, but said the device isn't expected to reach carrier stores until June.
---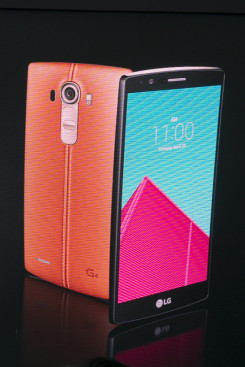 LG today announced the G4, its 2015 flagship smartphone. The G4 is skinned in "vegetable-tanned" leather in a bid to set the phone apart from competing designs from Apple, HTC, and Samsung. Like its predecessors, the G4's main controls are placed on the back of the phone, something LG contends makes for easier use. The phone features a packed spec sheet, marking LG's intent on delivering a premium experience to G4 owners. For those not interested in leather, the G4 has other materials available for the back cover, such as "hammered metal." The screen has a 5.5-inch quad HD IPS Quantum display, and is powered by a Qualcomm Snapdragon 808 processor with X10 LTE. Qualcomm said it specially tuned the 808 for the LG G4 to improve call quality and offer (theoretical) download speeds of 400 Mbps. Qualcomm says its work on the 808 pushes battery life beyond a single day, and its sensor-based location services are more accurate than GPS alone. The phone's camera features a wide aperture of f/1.8 and captures 16 megapixel images. It has laser-assisted focus, fast optical image stabilization, and a color spectrum sensor to read visible and infrared light to help improve color. The phone can shoot in raw format, and can also capture 4K video. The 3,000Ah battery is removable, as well as support for memory cards. The user-facing camera boasts 8-megapixels and LG says it made improvements to the Gesture Shot feature to make selfies faster and easier to snap. The phone features the fourth-generation user interface from LG, which is based on Android 5.0 Lollipop. It relies on Google's apps for many functions and added something called Quick Help for searching the phone and the web. LG didn't say when the phone will be available, but carriers are likely to provide those details soon.
---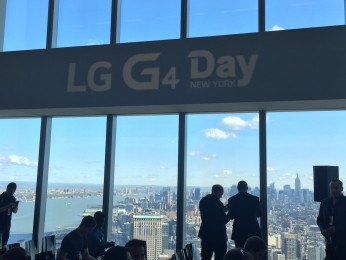 LG is holding a major launch event today, and hasn't been shy about dropping hints as to the content. Their new flagship phone for 2015 - the G4 - will be announced. Advance hints have us expecting a stitched leather back (at least as an option) and an advanced camera with a large, high-quality lens and a raw photo mode. We'll be reporting live from the event in downtown NYC. Tune in here.
---