CAT S50c
Info Photos News Forum 7 Hands-On ›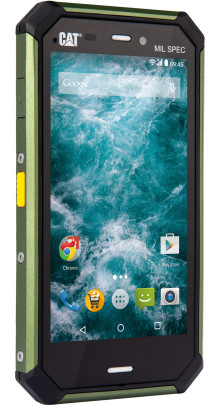 Bullitt today announced the Cat S50c, a new rugged smartphone that's compatible with Verizon's network in the U.S. The S50c has been certified by Verizon for its LTE 4G network, but is being sold online. The S50c has earned a mil-spec 810g rating for protection against drops and abuse, and an IP67 rating for protection against liquid and dust. It can sit in 3.3 feet of water for up to 30 minutes. The 4.7-inch HD Gorilla Glass display supports wet finger and glove tracking, so it can be used in the rain or snow. The phone has a 1.2 GHz quad-core processor with 1 GB of RAM and 8 GB of storage. It supports memory cards up to 64 GB. Cat says the 2,630mAh battery provides a full day of use. It can support PTT services if enabled through Verizon. The phone is being sold by Cat, Amazon.com, Home Depot, Ingram Micro, and authorized Verizon resellers. The Cat S50c costs $399.99.
---
The CAT S50 rugged Android phone will be available to Verizon customers in just a few weeks, according to CAT representatives. The special S50c version supports Verizon's LTE bands and CDMA network, and is in the final stages of approval by Verizon. It will be available through business channels and certain indirect retailers, but not in Verizon stores. The S50 has a 4.7-inch 720p HD display, IP67 rating against water and dust, 8-megapixel camera, memory card slot, and a Snapdragon 400 processor.
---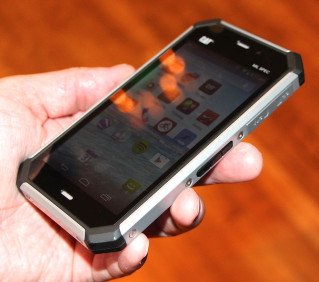 CAT announced the S50 this week, a bigger, bolder ruggedized smartphone. It has a larger display, faster processor, and higher toughness rating than last year's B15. Here are our first impressions.
---