Microsoft Lumia 735 (CDMA)
Info Photos News Forum 1 Reviews 1
Microsoft will end support for its Windows 10 Mobile smartphone OS on December 10 2019, and is encouraging people still using Windows 10 Mobile phones to switch to Android or iOS phones. Microsoft is now focusing on those platforms and offers a suite of its own apps for both platforms. After December 10th, Microsoft will no longer offer free security updates for any version of Windows Mobile, making the continued use of Windows phones a security risk. The cutoff for the Lumia 640 and 640 XL phones is sooner: June 11th. "After the end of support, automatic or manual creation of new device backups for settings and some applications will continue for 3 months, ending March 10, 2020. Some services including photo uploads and restoring a device from an existing device backup may continue to work for up to another 12 months from end of support."
---
The Microsoft Lumia 735 is now available for sale in Verizon Wireless's retail stores. It was previously only available online. It costs $30 with a two-year contract, $8 with a Verizon Edge plan, or $199 at full retail.
---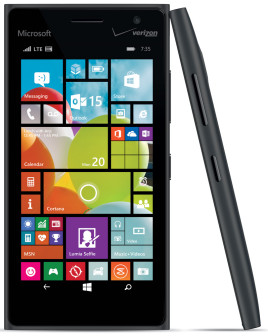 Verizon Wireless today announced the Microsoft Lumia 735, a low-cost Windows Phone. The 735 includes a 4.7-inch HD screen, 1.2GHz quad-core processor, and 16 GB of storage. The main camera has a 6.7-megapixel sensor and the user-facing camera has a 5-megapixel sensor. The phone supports memory cards up to 128 GB and includes a 2,220mAh battery. In addition to Windows Phone 8.1 with Cortana and the Lumia Denim update, the Lumia 735 offers owners a free year-long subscription to Office 365 as well as 1 TB of OneDrive cloud storage. The Lumia costs $192 at full retail or $8 per month for 24 months with a Verizon Edge plan. It is available online today, but won't reach stores until July. Verizon also is offering $100 bill credit to customers who port their number.
---