Samsung Galaxy Note Edge (CDMA)
Info Photos News Forum 23 Hands-On › Our Review ›
Sprint is rolling out Android 6.0 Marshmallow to the Samsung Galaxy S5 Sport and Galaxy Note Edge. The update is being pushed in phases, which Sprint expects to complete by May 11 for the S5 Sport and May 2 for the Note Edge. In addition to the operating system update, Sprint says the Galaxy Note Edge is also receiving the latest security patches from Samsung and Google. Sprint did not say if the Note Edge update includes the improved Edge Panel behaviors that have been made available to the S6 Edge and S6 Edge+.
---
Samsung and Think Tank today introduced a beta app called Flow, which is meant to help people transition tasks from one Samsung device to another. It is similar in concept to Apple's Continuity feature for iOS and Mac hardware. Flow offers Samsung smartphone owners two distinct use-cases: transfer an activity or defer an activity. With transfer, people can work on a particular activity and then move it to another device and pick up right where they left off. For example, users can listen to clips on Soundcloud on their smartphone and then transfer the activity to their tablet without missing a beat. The deferring feature lets people defer an incoming activity request on one device if, for example, it's not the right device for that particular task. They can then pick up the activity on whichever other device they prefer when they're ready. According to Samsung, Flow supports existing applications through Android's share mechanism. Samsung expects to add more features, including notify, mirror, and divide, to Flow over time. For the moment, Flow is limited to the Galaxy S5, S6, and S6 Edge; Galaxy Alpha; Galaxy Note 4 and Note Edge; and the Galaxy Tab S. The beta app is free to download from the Google Play Store.
---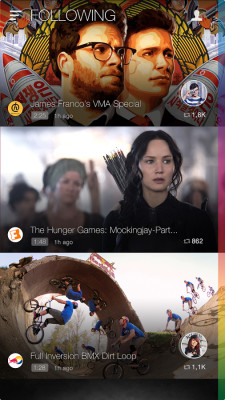 Samsung today announced Milk Video, a video content discovery service for Galaxy-branded smartphones. Like Samsung's Milk Music, Milk Video has a refined user interface that makes browsing the best way to find new and interesting videos. According to Samsung, Milk Video will learn and refine its content recommendations every time people use it to create a more personal experience. Some of the content partners include Condé Nast, Funny Or Die, Red Bull, Vevo, and VICE. Samsung says it is working to score more content down the road. Milk Video is compatible with the Galaxy Note II, 3, 4, and Edge; Galaxy Mega; and Galaxy SIII, S4, S4 Mini, and S5 smartphones. It is free for owners of these devices to download from the Play Store.
---
Samsung hopes to differentiate its smartphones from its competitors' phones by using more curved displays. Samsung is on track to record a huge loss in profit for the year thanks to weaker-than-expected sales of phones such as the Galaxy S5 and Note 4. It has also lost ground to low-cost competitors in markets such as China. Now that big-screened phones are a healthy device category, Samsung is looking for different wants to set its products apart. One way it will do that is to use curved displays, such as the one on the Galaxy Note Edge. "A change in the platform can bring about a variety of new considerations," said Note Edge designer Kim Nam-su. "I think a curved screen is a big solution for overcoming those [competitive] challenges." Reuters suggests Samsung's ability to mass produce curved displays at a lower cost than its rivals gives it an advantage in this respect. The Note Edge is set to go on sale in the U.S later this month. Samsung also plans to resurrect sales of mid-range devices.
---
Samsung today announced that the five largest wireless network operators in the U.S. will sell the Galaxy Note Edge beginning this month. The Note Edge is a variant of the Note 4 that has a unique, curved display that provides extra screen space for controls and shortcuts. Samsung said AT&T, Sprint, T-Mobile, Verizon Wireless, and U.S. Cellular will carry the Galaxy Note Edge in both black and white. The Note Edge goes on sale November 14. Carriers have yet to reveal their individual pricing plans.
---
Nvidia announced that the U.S. International Trade Commission has agreed to investigate Nvidia's claims that Samsung is violating Nvidia's intellectual property. Nvidia filed legal action against Samsung last month, alleging some of its devices violate patents pertaining to graphics processing on mobile devices. Nvidia called out the latest Samsung handsets, including the Galaxy Note 4, Note 3, and Note Edge, as well as the Galaxy S5, in the litigation Last year, Nvidia said it would license its processor designs moving forward, but it has yet to score any such deals. The company has filed similar litigation against Qualcomm.
---
Samsung and the Car Connectivity Consortium today announced that the Galaxy Note 4 and Galaxy Note Edge are both MirrorLink compatible. MirrorLink is a connectivity tool for pairing smartphones and cars. It works across smartphone platforms and car manufacturers, and is the only vendor-neutral standard available. With MirrorLink aboard, the Note 4 and Note Edge will be able to connect to select in-car infotainment systems, allowing drivers to more safely access their phone's content when behind the wheel. Apple and Google have both announced their own connectivity solutions for cars, which are part of iOS 8 and Android Release L, respectively.
---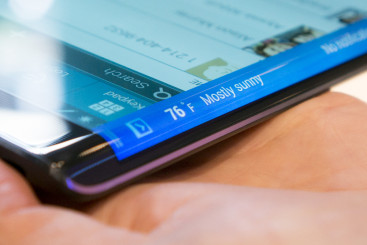 The Samsung Galaxy Note Edge isn't the first phone to ship with a curved screen, but it's the first with a non-uniform curve that's mostly flat but spills over the edge to cover both the front and the right side. It's similar to a concept phone Samsung showed off a couple of years ago, but now it's here, it's real, and you can actually buy one soon. We spent some time with it; read on for our first impressions.
---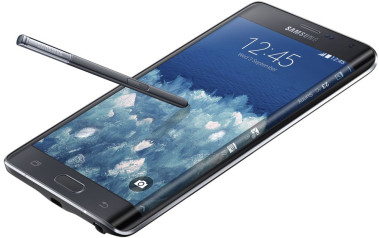 Samsung today announced the Galaxy Note Edge, a large-screened smartphone that has a unique curved edge along one side of the display.The edge provides quick access to frequently used apps, alerts and device functionality. The Note Edge shares many specs with the Note 4, though the display is slightly smaller at 5.6 inches. It uses the same processor (quad-core 2.7GHz) and camera combination (16-/3.7-megapixels), as well as Samsung's TouchWiz user interface and apps. The Note Edge will be sold later this year by all four top national U.S. carriers.
---