Nokia Lumia 530
Microsoft will end support for its Windows 10 Mobile smartphone OS on December 10 2019, and is encouraging people still using Windows 10 Mobile phones to switch to Android or iOS phones. Microsoft is now focusing on those platforms and offers a suite of its own apps for both platforms. After December 10th, Microsoft will no longer offer free security updates for any version of Windows Mobile, making the continued use of Windows phones a security risk. The cutoff for the Lumia 640 and 640 XL phones is sooner: June 11th. "After the end of support, automatic or manual creation of new device backups for settings and some applications will continue for 3 months, ending March 10, 2020. Some services including photo uploads and restoring a device from an existing device backup may continue to work for up to another 12 months from end of support."
---
T-Mobile today followed Cricket Wireless in announcing the availability of the Nokia Lumia 530. T-Mobile's variant reaches Best Buy and Microsoft stores October 5, and T-Mobile stores October 15. T-Mobile is charging $79.20 for the 530.
---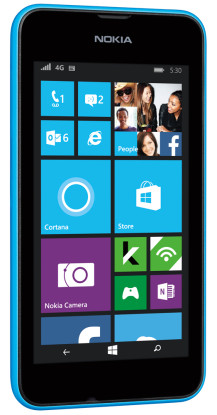 Cricket Wireless today announced it has added the Nokia Lumia 530 to its lineup of low-cost smartphones. The 530 is Nokia's entry-level smartphone, which includes a 4-inch display, 5-megapixel camera, quad-core processor, and Windows Phone 8.1 with Cortana. The Lumia 530 will be available online and in select stores beginning October 3. It costs $50. Cricket also noted that it plans to roll out Windows Phone 8.1 to the Lumia 1320. Owners of the 1320 can expect to see the update arrive in the coming weeks.
---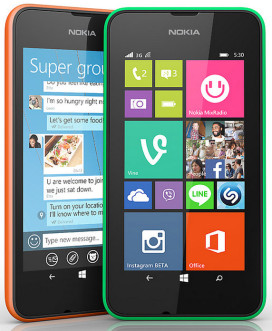 Microsoft today revealed the Lumia 530, a new entry-level Windows Phone that succeeds last year's 520. The device features the same colorful design language common to Lumia models and includes interchangeable rear shells for personalization. The Lumia 530 runs Windows Phone 8.1 with Cortana, MixRadio, and HERE Maps. The 530 features a 4-inch 854 x 480 display, is powered by a quad-core 1.2GHz Snapdragon 200 processor, and includes a 5-megapixel camera. Connectivity is limited to HSPA at 21Mbps, but it includes Wi-Fi, Bluetooth 4.0, and aGPS. System memory is limited to 512MB and storage is limited to 4GB. The Lumia 530 supports microSD cards up to 128GB and will be sold in a dual-SIM variant in select markets. The Lumia 530 will be available globally and begins shipping in August. The target price point is about $130. T-Mobile is the only U.S. carrier to voice support for the 530, which it said will go on sale later this year.
---