HTC One (M8) (CDMA)
Info Photos News Forum 85 Reviews 8
HTC today warned owners of its handsets that it likely won't meet its self-imposed 90-day deadline to deliver Lollipop to existing handsets. Several years ago, HTC promised customers it would update its handsets to the latest version of Android within 90 days of that vesion's general release. According to HTC, however, things aren't going so smoothly with Android 5.0 Lollipop. "We've been working hard in the labs with Google and our carrier partners ever since the code release and are making great progress so far, but if you've been following the progress of this rollout you will know that Google has had to address several issues with this release," said HTC in a blog post. "We've been diligently working to fix some of them on our end and incorporating Google's fixes as quickly as possible, but despite everyone's best efforts some carrier versions of the HTC One (M8) and HTC One (M7) will not meet our 90 day goal, which is February 1st." HTC concluded by saying it would prefer to deliver the update correctly rather than quickly. It said it will continue to provide updates as more information about Lollipop rollouts become available.
---
VSCO Cam, a popular third-party camera application for Android and iOS devices, updated both of its mobile apps today. The camera gains a number of new features through the update, such as the ability to sync images across devices, side-by-side filter comparisons, and a web uploader tool. The app also gains a new user interface and claims to take better pictures. The Android version of VSCO Cam is notable in that it makes use of APIs from HTC so it can support separate focus and exposure points. VSCO Cam is available in the Google Play Store and the iTunes App Store.
---
HTC and the Car Connectivity Consortium today announced that a forthcoming software update will make the One (M8) MirrorLink compatible. MirrorLink is a connectivity tool for pairing smartphones and cars. It works across smartphone platforms and car manufacturers, and, according to the CCC, is the only vendor-neutral standard available. With MirrorLink aboard, the One (M8) will be able to connect to select in-car infotainment systems,m allowing drivers to more safely access their phone's content when behind the wheel. It's unclear how many cars currently support MirrorLink, but the CCC hopes with HTC's support more will choose to support it. Apple and Google both recently announced their own connectivity solutions for cars, which are expected to appear in iOS 8 and Android Release L, respectively. HTC said it will add MirrorLink support to mode devices down the road.
---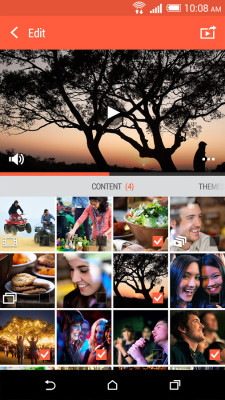 HTC today updated its gallery application and made it easier for owners of the HTC One (M8) to share the unique photos captured by the Duo Camera. The M8 has two cameras, which allows it to add perspective information to photos after the fact. The updated app introduces the Duo Effects Gallery, which is a web viewer that can be used to share the interactive images created by UFocus, Foregrounder, and Dimension Plus. Previously, these photos were only viewable on the M8 itself. Now M8 users can send a link to these files to anyone. The updated gallery application is free to download from the Google Play Store.
---
Sprint recently announced that it is rolling out Wi-Fi calling to the HTC One and HTC One Harmon Kardon Edition. The Wi-Fi calling feature makes it possible to connect voice calls and send messages via local Wi-Fi networks rather than through Sprint's cellular network. International Wi-Fi calling will also be available in the coming weeks. It allows customers to make calls and send texts via Wi-Fi in more than 100 countries. Only a handful of Sprint's phones support Wi-Fi calling, but Sprint said more will be updated with the feature throughout the year. HTC One owners will receive the update over the next few weeks.
---
HTC today indicated the company's head of design, Scott Croyle, is leaving. Croyle joined HTC's ranks in 2008 as part of the company's acquisition of the One & Co. design firm. Croyle is responsible for the designs of both the HTC One M7 and M8 smartphones, which have been lauded for their design. Croyle will slowly transition away from HTC to work on his own projects, but will still play a role in select efforts at HTC. Jonah Becker, who worked under Croyle, will assume most of Croyle's responsibilities, which include managing the company's San Francisco design studio. HTC also promoted Drew Bamford from the head of the Sense user interface to overseeing all HTC's software and services. The changes are effective immediately.
---
Verizon Wireless today made a system update available to the HTC One (M8). The update adds several minor features to the Gallery app, including a copy/paste function, and resolves a number of bugs, such as web connection errors and data syncing when the Dot Matrix case is attached. The system update is free to download and install.
---
HTC said the One (M8) should be available in carrier retail stores (AT&T, Sprint, etc.) around the country beginning today. It was previously only at Verizon stores.
---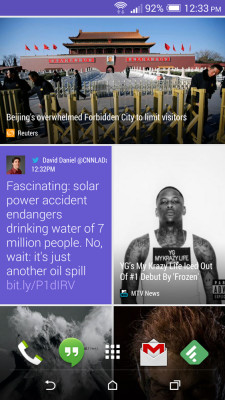 HTC plans to release versions of its BlinkFeed and Zoe Camera applications that are compatible with Android devices made by other manufacturers. The news about BlinkFeed appeared in a footnote from the company's press release about the One. BlinkFeed is HTC's social reader app. It pulls content from social networks and news sources to create an ever-updating feed. According to HTC, BlinkFeed is fairly popular, and that's why it plans to extend its availability to other Android handsets. The company will release an API for BlinkFeed to developers shortly. HTC also confirmed to the Verge that it plans to make a stand-alone version of its Zoe Camera application available to other phones. Zoes are a combination of still images and short video clips. It is a feature built into the camera app of the One, One max, One mini, etc. HTC plans to release a Zoe app that lets multiple people collaborate and create lengthy Zoes that share the same time, subject, or event. The Zoe app will launch later this year.
---
HTC said today it will offer both Google Play and developer editions of the HTC One, in addition to the carrier variants. The Play Edition One will be sold directly from Google. It can be preordered beginning today only in silver. It will cost $699 and is sold without a contract. HTC believes the device will ship within 10 to 14 days. Importantly, HTC has made its camera API available to Google, so the Play Edition variant should be able to take advantage of the two-camera setup employed by the One for 3D shots. Google hasn't specifically said what it will do with the HTC camera API, however. The Play Edition will support quad-band GSM/EDGE, as well as HSPA+ in the 850/AWS/1900/2100MHz bands, and LTE in the 700/850/AWS/1900MHz bands (LTE roaming in the 1800/2600MHz bands). HTC itself is selling an unlocked developer edition of the One, also, which can be ordered from HTC.com beginning today for $649. It is a GSM model, though HTC didn't specify what 3G/4G bands it will support.
---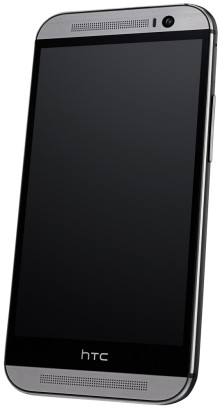 The HTC One can be purchased in the U.S. beginning today. The new smartphone from HTC will be available in Verizon Wireless retail stores beginning at approximately 1PM Eastern time. At the same time, the One will go on sale through the web sites of AT&T, Sprint, and HTC itself. T-Mobile is not offering web orders today. The One will not reach AT&T or Sprint retail stores until April 11, but can be ordered online today for delivery within several days. The One will become available from T-Mobile at some point in early April. The device retails for $199/$249, depending on the carrier, and has a full retail price of $649.
---
HTC today said it will offer developers APIs that hook into the new Blinkfeed application as well as the new camera on the HTC One. These APIs will let developers take advantage of the new duo-camera setup of the One, which can add 3D and other info to photos, to enhance their own apps. The BlinkFeed app has been improved in Sense 6.0, and the APIs should make it easier for One owners to seek out and add content to their feed. These APIs will be available to developers soon.
---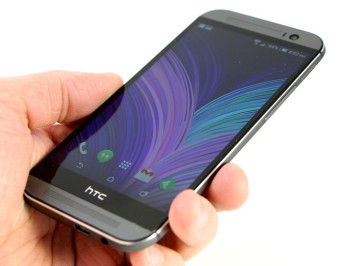 Here are some quick and dirty thoughts about the HTC One, which has an all-metal design, 5-inch HD screen, and a rewritten user interface.
---
HTC today announced the One, an update to its top-of-the-line smartphone for 2014. The new One uses more aluminum in its design and increases the screen to 5-inches with full HD resolution. The One features a two-camera design that lets users create 3D images and add other effects after the image has been taken. The main camera uses the same 4-ultrapixel configuration last year's device did, but uses a dual-LED flash, upgrades the ImageChip, and boosts the user-facing camera from 2-megapixels to 5-megapixels. The camera boasts an improved Zoe mode, HDT mode, the ability to take images using both cameras at the same time, as well as save camera presets for later. The One is powered by a 2.3GHz quad-core Snapdragon 801 processor, which is accompanied by 2GB of RAM. The device will be offered with 32GB of storage in the U.S., and supports microSD cards up to 128GB. Despite the all-metal design, the HTC includes NFC, Bluetooth 4.0, dual-band Wi-Fi, and support for U.S. LTE 4G networks. In addition to the hardware updates, HTC revealed Sense 6.0, its Android user interface overlay. The new version of Sense makes it easier to add content to Blinkfeed and manage home screens; adds lock-screen gestures that anticipate what the user wants; simplifies the camera and video camera software; and improved TV guide/remote software. HTC says the battery is 40% bigger than last year's phone, and it comes with "extreme power saving" mode, which shuts down all but the most essential apps when the battery reaches 5% and still provides for another 15 hours of battery life. Along with the One, HTC announced the Dot View case, which is a wrap-around case for the One. The front of the case is speckled with dots. Using the case puts the phone into an alternate notification mode that will use the dots to display notifications for incoming calls and text messages. The Dot View cast will be available separately for $50. The HTC One bears a full retail price of $649 and will be available soon.
---