Alcatel Fierce
Info Photos News Forum 12 Reviews 5
T-Mobile today announced that the Alcatel OneTouch Evolve and OneTouch Fierce will also be available under the MetroPCS brand. Both phones are already available for sale at T-Mobile stores. MetroPCS is selling the Evolve for $59.99 and the Fierce for $99.99. Both can be paired with no-contract monthly plans that start at $40.
---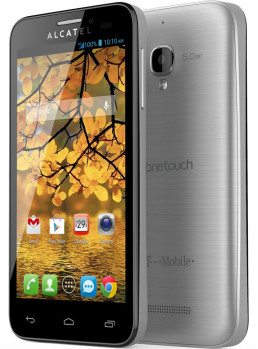 T-Mobile today announced two new Android smartphones from Alcatel, the OneTouch Fierce and the OneTouch Evolve. Both are slab-style devices that can access T-Mobile's HSPA+ network, but not its LTE network. Shared features include 5-megapixel cameras with 720p HD video capture; Wi-Fi, GPS, Bluetooth 4.0, and FM radios; and support for microSD cards up to 32GB.
Fierce: The Fierce (pictured) runs Android 4.2 Jelly Bean and features a 4.5-inch qHD display, quad-core 1.2GHz processor, and an 1800mAh battery. The Fierce will be available in select stores beginning October 5, and all T-Mobile sales channels on October 23. It costs $169.99 unsubsidized. With T-Mobile's Simple Choice plan, it can be purchased for a down payment of $19.99 and 24 payments of $6.50.
Evolve: The Evolve (gallery) runs Android 4.1 Jelly Bean and has a 4.0-inch WVGA display, 1GHz processor, and 1,400mAh battery. The OneTouch Evolve will be available in select stores beginning October 5 and all T-Mobile sales channels by October 16. The Evolve costs $99.99.
---
Documents seen on the FCC web site reveal details about an unannounced handset from Alcatel. The One Touch Fierce, as it is referred to, supports spectrum bands that earmark it for T-Mobile, and it also includes Wi-Fi, Bluetooth, and GPS. Based on images published by the FCC, the Fierce is a slab-style touch phone that has a camera, support for memory cards, and standard USB and headphone ports. The draft user manual refers to Google's Android operating system and T-Mobile-specific functions, such as Wi-Fi calling. Neither Alcatel nor T-Mobile has provided further details about this device.
---