Sony Xperia Z Ultra
Sony today said it has prepared Android 5.1 Lollipop for a number of its Xperia smartphones and tablets. The updated operating system is available to the Xperia Z3, Z3 Compact, Z3 Tablet Compact, Z2, and Z2 Tablet. Sony said it blended the features of Android 5.1 with its own user interface tweaks. For example, users now have more control over the volume and silent mode functions; can enjoy tighter integration with LinkedIn; and should experience faster, more accurate Superior Auto Mode with the camera. Sony also added some business-focused features. Though Sony is pushing the system update, timing of its arrival will depend on region and carrier. Sony said it should have Android 5.1 ready for the Xperia Z1, Z1 Compact, and Z Ultra in the coming weeks, followed closely by the Xperia T2 Ultra, C3, and, finally, the original Xperia Z Series.
---
Google has begun pushing the Android 5.1 Lollipop update to several Play Edition smartphones, including the HTC One M8 and the Sony Xperia Z Ultra. Android 5.1 makes a number of improvements to the devices' performance, and also adds several new features. Google tweaked the Quick Settings menu, added support for HD voice, improved security by blocking non-authorized device resets, and changed how users adjust notifications and alerts. Play Edition handsets, which are available directly from Google, are unlocked and run a native version of Android. They are entirely devoid of manufacturer and carrier user interface overlays. The Android 5.1 Lollipop update is free to install.
---
Google today began pushing Android 5.0.1 Lollipop to the HTC One M7 and M8 Google Play Editions. The update may take up to two weeks to reach most handsets over the air, but users may also download and manually install the updates if they wish. Manually installing the updates requires some coding know-how and is not recommended for casual users. Google is already pushing Lollipop to the Sony Xperia Z Ultra Google Play Edition. Android 5.0 offers a brand new design, revamped notifications, and many other new features. Google Play Edition handsets are sold directly by Google and use stock Android rather than the phone maker's user interface skin.
---
Sony today said it has begun distributing Android 5.0 Lollipop to the Xperia Z Ultra Google Play Edition handset. The Z Ultra GPe is sold by Google and comes with a stock build of Android, free of any UI customizations from Sony. Android 5.0 gives the Z Ultra GPe a refreshed look, new notification features, faster performance, and support for multiple accounts. Sony is pushing the system update out slowly over the days ahead. Sony also committed to updating the entire Xperia Z Series to Android 5.0 beginning in early 2015.
---
Sony today announced that the Android 4.4 KitKat system update is now available to the Xperia Z1, Z1 Compact, and Z Ultra. In addition to the base software from Google, Sony added a number of its own tweaks to the operating system. For example, Sony added its own Status Bar and Quick Settings tools, as well as user interface elements borrowed from the PlayStation 4. The update includes the latest versions of Sony's own software and apps, such as Small Apps, Smart Social Camera, Messaging, as well as Walkman, Movies, and the Sony Entertainment Network. Last, the update includes Sony's recently-announced Xperia Themes, which are downloadable user interface packs that let Xperia device owners customize the look and feel of their handset with more than 280 possible tweaks. As always, the exact timing of the KitKat update's arrival will vary by country and carrier. Sony said it is prepared to roll out Android 4.4 KitKat to the Xperia Z, ZL, Tablet Z, and ZR from the middle of the second quarter.
---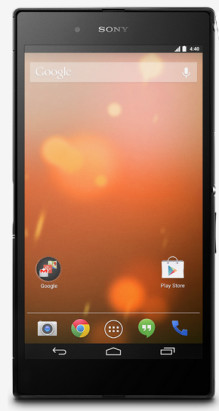 Google today made a Play Edition variant of the Sony Z Ultra available for sale in the Play Store. The Z Ultra has all the same specs as the standard version, but like the Play Edition HTC One and Play Edition Samsung Galaxy S4, it runs stock Android 4.4 KitKat. Google is selling the Play Edition Z Ultra for $649. It comes unlocked and is compatible with the LTE networks of both AT&T and T-Mobile.
---
Sony today revealed which devices it plans to update to Android 4.3 Jelly Bean and Android 4.4 KitKat in the months ahead. Sony said it will begin updating the Xperia Z, ZL, ZR, Tablet Z, Xperia SP, Z Ultra, and Z1 next month. Exact timing will vary by region, carrier, and device. Many of the same devices are on deck to also receive Android 4.4 KitKat down the road. The Xperia Z, ZL, Tablet Z, Z Ultra, and Z1 will all be updated to the latest version of Android, though Sony didn't provide a timeframe for the KitKat update.
---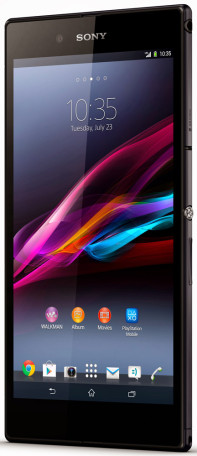 Sony today launched the Xperia Z Ultra and Z1 Android smartphones, and the SmartWatch 2 in the U.S. The company is selling all three devices directly to consumers via its online store and other select e-tailers. The Z Ultra (pictured) features a 6.4-inch full HD TriLuminos display, slim design, 8-megapixel camera with Exmor RS sensor, resistance to water and dust, and a stylus. The Z Ultra costs $649.99 for the HSPA+ model or $679.99 for the LTE model. The LTE model supports bands 1, 2, 4, 5, 7, 8, and 17. The Z1 features a 5-inch full HD TriLuminos display, dust and water resistance, 20.7-megapixel camera with Exmor RS sensor, and a slim design. The Z1 costs $669.99. It supports HSPA+, but not LTE. Both phones are available in black, white, or purple. Last, Sony is now selling its second-generation smartwatch, the SmartWatch 2, to U.S. consumers through its web store. The SmartWatch 2 connects to Android smartphones via NFC/Bluetooth and can be used to view notifications, accept/reject calls, control the media player, and record workouts. It is water resistant and offers two or three days of battery life. The SmartWatch 2 costs $199.99.
---