Nokia Lumia 1020
Info Photos News Forum 21 Reviews 2
AT&T today said owners of the Lumia 1020 can download and install the Windows Phone 8.1 update. The improved operating system adds Cortana, Action Center, the Word Flow keyboard and other features. The system update is free.
---
Nokia today announced that it has begun pushing the Nokia Black system update to more of its Lumia Windows Phone 8 smartphones. Nokia Black offers a wide range of new features, including app folders for the home screen, Nokia Glance 2.0 notifications tool, Bluetooth Low Energy, Nokia Refocus (Lytro-like camera feature), Nokia Beamer improvements, and the Nokia Camera application (combined Nokia Pro Camera and Smart Camera apps). The update is available to the Lumia 1020 and Lumia 925 first, and will be made available to more Lumia models in the coming weeks.
---
AT&T today made system updates available to both the Nokia Lumia 1020 and the Lumia 1520. The 1020, in particular, is receiving the Nokia Black update, which provides a number of new features and performance improvements. The update adds the ability to lock the screen rotation, set custom email/messaging ringtones, and more easily close apps in the app switcher. The update allows 1020 owners to download the combined Nokia Smart Camera and Nokia Pro Camera app, and adds the latest version of the Nokia Glance Screen, which displays the time and select notifications. Nokia Black bumps the 1020's Bluetooth radio up to Bluetooth 4.0 LE, and makes general improvements to the battery and system stability. The update for the Lumia 1520 appears to only fix bugs. Both require Wi-Fi, but can be pulled down manually via the system settings.
---
Nokia today published a new version of its music application and rebranded the service Nokia MixRadio. MixRadio builds on the Nokia Music service, which lets users create radio stations and stream music to their Lumia smartphones. More than 18 million tracks are available and Nokia has 150 curated radio stations, all of which can be streamed for free. The application was updated with a number of new features including Play Me, a personalized mix inspired by each user's music profile; thumbs up/down ratings to help users refine their profile; and the ability to share mixes through Facebook, Twitter, email, and SMS. Premium features, such as unlimited downloads to devices, require a $3.99 per month subscription. The new app can be downloaded from the Windows Phone Store.
---
Nokia today said that an update is available for its Nokia Camera application that adds support for RAW imaging. The feature was first announced last month and is available only to the Nokia Lumia 1520 at the moment. RAW imaging support will be available to the Lumia 1020 in early 2014, bundled together with the Lumia Black system update. Once 1520 owners download the Nokia Camera update, they'll have to select the DNG capture mode in the settings tools. Nokia warns that RAW image files will be much larger than standard JPEGs. Windows device owners can use the Windows Explorer desktop tool to download RAW images, but Mac users will need to download the latest version of the Nokia Photo Transfer app. The photo app was recently updated to support RAW files. Nokia Camera is free to download for Lumia smartphones.
---
Nokia today announced new imaging features for its high-end Lumia smartphones with PureView cameras, including the Lumia 1520 and the Lumia 1020. First, Nokia is adding support for RAW image files. RAW files are unprocessed and act like digital negatives. They can be used to create a wider range of final images. Second, Nokia announced a feature called Refocus. Refocus is similar to Lytro in that it allows owners to adjust the focal point in an image after the picture has been taken. RAW image support and Refocus will be distributed to the 1520 and 1020 in November.
---
Nokia has released a software developer kit for application writers that focuses on imaging functions. The Nokia Imaging SDK, released in conjunction with the Lumia 1020 smartphone, is a native Windows Phone 8 library that can be used by any developer and with any Windows Phone 8 app. It lets others in the Windows Phone ecosystem access and use the filters and imaging processing effects found in Nokia's own devices. The SDK is free for developers to download.
---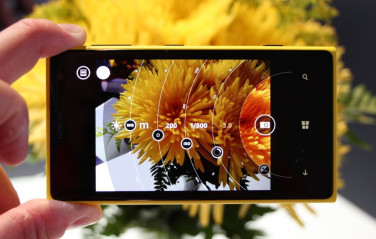 Nokia's latest Windows Phone puts photography first with its 41-megapxiel camera for AT&T. Here are our first impressions.
---
Nokia today announced that the Lumia 1020 will include Flipboard. To-date, the social magazine application has only been available to the Android and iOS platforms. The Lumia 1020 will be the first Windows Phone device to offer the app.
---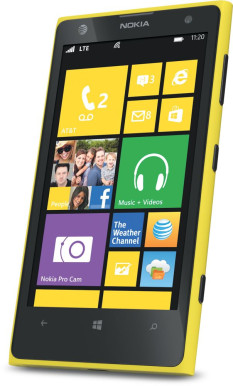 Nokia today announced the Lumia 1020, a Windows Phone 8 smartphone that boasts a 41-megapixel camera sensor. The device carries over features seen on last year's PureView 808, such as second-generation optical image stabilization, Zeiss optics with a 6-lens design, a mechanical shutter, and xenon flash. In addition to the 1020's hardware features, it comes with a revised camera application called Nokia Pro Camera that provides shutterbugs with granular control over every aspect of the camera's behavior. Users can adjust flash, focus, ISO, shutter speed, white balance, and exposure, as well as zoom, straighten horizons, alter orientation, and re-frame images after they are taken. The camera also records 1080p HD video at 30 frames per second with stereo sound that can accommodate loud events, such as concerts. Other features of the Lumia 1020 include a 4.5-inch AMOLED WXGA display with Gorilla Glass 3, 32GB of on-board storage, and access to AT&T Locker, which provides an additional 50GB of online storage for free. The device will be sold by AT&T beginning July 26 for $299.99. Preorders begin July 16. It comes in black, white, and yellow.
---