Motorola Photon Q
Info Photos News Forum 53 Reviews 1
Sprint today indicated via its user forums that the Android 4.1 Jelly Bean update is now ready for the Motorola Photon Q. The system update adds a wide range of new features to the Photon Q, including Google Now, Voice Search improvements, bug fixes, and camera enhancements. The update is being rolled out over the air in stages. Photon Q owners will be notified when their device is ready for the update.
---
Motorola recently revised the customer support page that lists which smartphones will receive updated versions of Android and approximately when those updates will arrive. The RAZR M, RAZR HD, and MAXX HD have all received Jelly Bean. The Atrix HD is next on the list, and should get Jelly Bean beginning this month. Devices slated to receive Jelly Bean during the first quarter of 2013 include the Electrify M and the Xoom tablet. Other devices that will receive Jelly Bean at some point in the future include the Photon 2, Electrify 2, RAZR, RAZR MAXX, Droid 4, and Bionic. As a reminder, Motorola is offering a $100 rebate toward an Android 4.x device to current owners of Motorola smartphones running Android 2.3 Gingerbread.
---
Motorola has updated the list of devices that will receive updated versions of Android and is revealing for the first time those slated to get Android 4.1 Jelly Bean. The Droid RAZR M, RAZR HD, and MAXX HD are all schedule to receive the Jelly Bean update before the end of the year. Other devices that will be updated to Android 4.1 include the Atrix HD, Photon Q, Electrify 2, and the Droid RAZR, RAZR MAXX, 4, and Bionic. Motorola didn't say when this second group will receive Jelly Bean. Devices not on these lists are likely to be updated only as far as Android 4.0 Ice Cream Sandwich.
---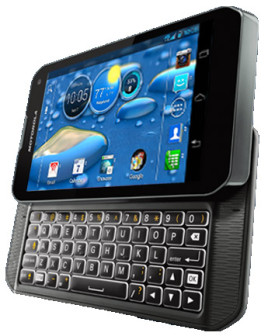 C Spire Wireless today announced that its LTE 4G network is now available for the first time in several markets in Mississippi. C Spire said that residents of McComb, Brookhaven, Meridian, and Greenville, Miss., are the first who have access to its LTE 4G network. The four launch markets will be followed by 31 additional markets by the end of October, and six more by the end of this year for a total of 41 markets. C Spire's LTE 4G network will eventually use 364 cell sites to cover 2,700 square miles and 1.2 million POPs with LTE. C Spire advertises its LTE 4G network as "up to 10 times faster" than its 3G network. The first device able to access C Spire's LTE 4G network is the Motorola Photon Q LTE 4G. The Photon Q (also sold by Sprint) costs $199.99 with a new contract and is available starting today. C Spire plans to also sell the Samsung Galaxy S III, which may be pre-ordered by interested customers, but is not yet available. Monthly plans cost the same as C Spire's 3G plans. The Choice Data plan costs $60 per month and includes unlimited messaging, unlimited 3G/4G data, unlimited C Spire-to-C Spire mobile minutes, and 500 regular voice minutes. Streaming video services require an extra monthly charge. C Spire Wireless's LTE 4G customers are able to roam onto Sprint's LTE 4G network, which launched earlier this year and will expand over time. C Spire expects that its customers will eventually have access to nationwide LTE 4G roaming.
---
Sprint today announced that the Motorola Photon Q LTE will go on sale starting August 19 for $199.99 with a new contract. Preorders for the Photon Q begin today. The Photon Q supports Sprint's LTE 4G network, runs Android 4.0, has a dual-core 1.5GHz processor, and includes a full, slide-out QWERTY keyboard.
---
Motorola today revealed that the Photon Q, launching in August on Sprint's network, will have an unlockable bootloader. Motorola has traditionally kept the bootloaders of its Android smartphones locked. The Photon Q will be the first to ship with an unlockable bootloader, and Motorola said more devices with unlockable bootloaders will follow. Motorola said it will provide instructions on how to unlock the Photon Q's bootloader once it launches. In the past, Motorola argued that unlocking the bootloaders of Android smartphones made them less secure. It didn't say what changed its mind on the issue.
---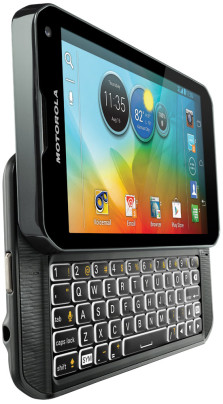 On the heels of being out by Sprint CEO Dan Hesse, Motorola today provided more details about the Photon Q. The Photon Q is a sideways slider with touch screen and full QWERTY keyboard for messaging. It runs Android 4.0.4 Ice Cream Sandwich and is powered by a 1.5GHz dual-core processor with 1GB of RAM and 8GB of internal storage (expandable by 32GB via microSD). The Phton Q boasts a 4.3-inch ColorBoost display with qHD resolution (960 x 540 pixels). Radio support includes LTE 4G, EVDO 3G, GSM/UMTS for global roaming, Bluetooth 4.0, Wi-Fi (802.11b.g.n), GPS, and NFC. The main camera rates 8 megapixels and can capture video at 1080p HD. The user-facing camera can shoot 720p HD video for high-definition Google+ Hangouts. The Photon Q also includes business-friendly features, such as enterprise-grade security and enhanced Microsoft Exchange support. Pricing and availability of the Motorola Photon Q have not been announced.
---