BlackBerry Curve 9310
Info Photos News Forum 32 Reviews 2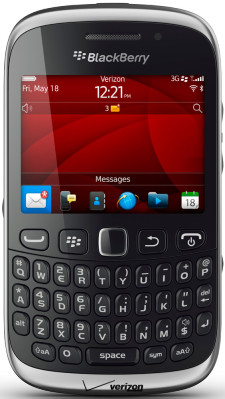 Verizon Wireless today added the Research In Motion BlackBerry Curve 9310 to its roster of BlackBerries. The 9310 is an entry-level smartphone that runs BlackBerry OS 7.1 and includes a 3.2-megapixel camera, full QWERTY keyboard with a dedicated BlackBerry Messenger button, GPS and navigation, parental controls, and support for microSD cards up to 32GB. The Curve 9310's display measures 2.44 inches and has 320 x 420 pixels. It supports 802.11b/g/n Wi-Fi and Bluetooth 2.1+EDR. The Curve 9310 will be available starting July 12, and will cost $49.99 after $50 mail-in rebate. The Curve requires customers to sign a two-year agreement and pick the Share Everything plan, which starts at $80 per month for unlimited voice and messaging, and 300MB of data.
---
Boost Mobile today announced that it will offer the Blackberry Curve 9310 starting July 10 for $99.99. The 9310 is being paired with a plan that includes unlimited talk, text, and BlackBerry Messenger for $45 per month. The cost of the plan can shrink to as little as $30 per month under Boost's "Shrinkage" policy, which rewards customers with lower monthly bills for every six months of on-time payments. The BlackBerry Curve 9310 will be sold at Boost-owned retail stores and other select dealers, including Best Buy.
---
Research In Motion today added the BlackBerry Curve 9320 to its entry-level range of smartphones. It is a compact monoblock-style device with a full backlit QWERTY keyboard and a 2.44-inch non-touch display with 320 x 240 resolution. The 9320 runs BlackBerry OS 7.1 and features a dedicated hardware button for its popular BlackBerry Messenger service. Other features include a 3.2-megapixel camera with video capture; Wifi, GPS, Bluetooth, and FM radios; 512MB of on-board storage and support for 32GB microSD cards. Though no U.S. carriers have announced plans to sell the 9320, it supports the 2G/3G networks of both AT&T and T-Mobile.
---