Pantech Perception
Info Photos News Forum 12 Our Review ›
Park Byeong-yeop, the vice chairman of Pantech, announced today that he will resign from his post. Park founded Pantech in 1991 and served as its leader for more than a decade. He cited the company's poor smartphone sales performance in recent years as the reason for his departure. Further, Pantech is restructuring its finances and is asking 800 employees (about 25% of its total workforce) to take a voluntary six-month leave of absence. Verizon Wireless sells the Pantech Perception, an Android smartphone. It is one of the only Pantech devices to reach the U.S. this year.
---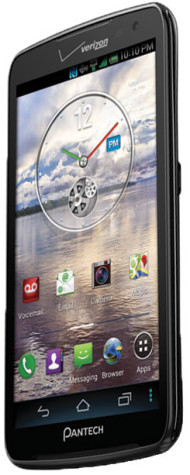 Verizon Wireless today announced that the Pantech Perception, a global Android smartphone, will go on sale beginning April 25. According to Verizon, Motion Sense is the Perception's stand-out feature. Motion Sense allows Perception owners to answer phone calls, scroll through the contact app, flip through photo albums, or advance songs by waving their hand in front of the device. This feature is similar to Air Gesture on the Samsung Galaxy S 4. Other features of the Pantech Perception include a 4.8-inch 1280 z 720p HD Super AMOLED display; 8-megapixel main camera and 2-megapixel user-facing camera; 1.5GHz dual core processor with 1GB of RAM; LTE, Bluetooth 4.0, GPS, Wi-Fi, and mobile hotspot; and 16GB of on-board storage. The Perception will ship with Android 4.0 Ice Cream Sandwich, but will be updated to Android 4.1 Jelly Bean quickly. The device will cost $99.99 after $50 mail-in rebate with a new two-year agreement.
---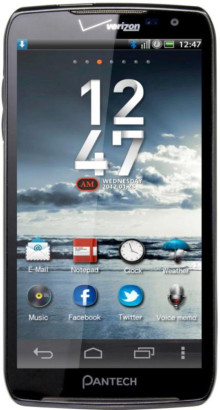 Documents seen on the Federal Communications Commission reveal an unannounced handset from Pantech for Verizon Wireless. The Pantech Perception is a monoblock Android smartphone that the FCC confirms supports LTE 4G in addition to CDMA and GSM for roaming, and Wi-Fi and Bluetooth. The FCC also confirms that the Pantech Perception includes NFC, and images show an 8-megapixel camera with flash on the rear of the device. The draft user manual refers to other features such as microSD card support, Wi-Fi Direct, HFMI, and DLNA, though these are not confirmed. Based on screenshots, the Perception runs Android 4.x. Neither Pantech nor Verizon Wireless has announced the Perception, and pricing and availability are not known.
---