LG Optimus Elite / Optimus M+ / Optimus Plus / Optimus Quest
Info Photos News Forum 48 Reviews 7
Sprint confirmed today that it plans to launch Sprint-branded prepaid cellular service, called Sprint As You Go, later this month. The service will offer several phones for full retail price along with altered versions of Sprint's service plans. Sprint will sell four phones, two smartphones (LG Optimus Elite for $150, Samsung Victory for $250) and two feature phones. The prepaid smartphone plans include unlimited talk, text, and data for $70 per month, and the prepaid feature phone plans include unlimited talk, text, and data for $50 per month. They will be available for purchase from Sprint's existing retail stores. "This is essentially a retail initiative for Sprint-branded stores only, created for customers who have an affinity for the Sprint brand and have indicated they want a no-contract option," said Sprint spokeswoman Jayne Wallace to Fierce Wireless. "As for our prepaid brands, this actually allows us to strengthen the focus on our primary prepaid sales channels." Sprint will not throttle or limit the amount of data consumed by customers who choose these plans. The customers will not, however, be able to roam onto other carriers' EVDO 3G networks, nor will Sprint-branded services, such as Navigation, work. Sprint As You Go launches January 25.
---
Sprint today announced a new application for Android smartphones that enables push-to-talk functionality. The app, called Sprint Direct Connect Now, brings PTT calling features to devices such as the Kyocera Rise and LG Optimus Elite. Some of the capabilities the app offers include the ability to: interact with other Nextel Direct Connect and Sprint Direct Connect devices; connect with up to 21 participants in Group Connect; call alerts; use touch screen controls without the PTT button; interact with the native address book; and set up Direct Connect favorites. The application is available to the Kyocera Rise first, with availability for LG Optimus Elite and other devices to follow. The app is a free download from the Google Play Store, but requires users to subscribe to a Direct Connect plan in order to use the service.
---
Sprint today announced the availability of a new Sprint iD pack that is aimed at making smartphones easier to use for seniors. The Active Senior ID pack includes 20 applications and services that Sprint believes can help to improve the smartphone experience for older users. For example, it includes access to WebMD, the AARP, MedsTimer, and a fall detector, among other services. The Active Senior ID pack is available on select handsets, including the LG Viper, Optimus Elite, and Marquee; the Motorola Photon 4G; the Samsung Galaxy Victory, Conquer 4G, Epic 4G, Galaxy S II, and Transform; the Kyocera Rise; and the ZTE Fury. The Sprint iD pack is free.
---
The LG Optimus Elite will be available at Virgin Mobile USA stores starting today, May 15, for $149.99. The Optimus Elite is an Android phone that is eco-friendly and offers NFC and Google Wallet.
---
MetroPCS recently began selling the LG Optimus M+ through its web site and retail stores. The M+ is similar to the Optimus Elite, which is being sold by Sprint and Boost Mobile, though the M+ looses NFC and Google Wallet. The handset runs Android 2.3 Gingerbread and has a 3.5-inch display with 480 x 320 pixels. The Optimus M+ has an 800MHz processor, 5-megapixel camera with LED flash and video capture, Wi-Fi with mobile hotspot capability, Bluetooth 3.0, GPS, and support for microSD cards up to 32GB. The Optimus M+ costs $129.
---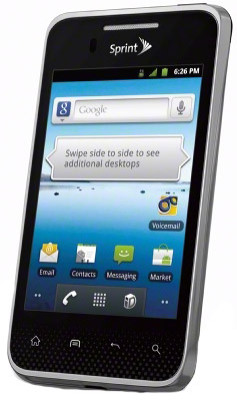 Sprint today announced the LG Optimus Elite, a new Android smartphone that adds to its roster of environmentally conscious devices. Its ecological features include an outer shell that is made of 50% recycled plastics; RoHS compliance, which means it is free of hazardous materials such as PVC, phthalates, halogens and mercury; and ULE Platinum Certified for sustainability. The Sprint version comes in fully recyclable packaging that is printed with soy inks, contains 87% post-consumer paper, and is free of glues. The Virgin Mobile variant's packaging contains 30% post-consumer paper. The handset itself runs Android 2.3 Gingerbread and has a 3.5-inch display, 800MHz processor, 5-megapixel camera, Wi-Fi with mobile hotspot capability, near-field communications, and Google Wallet. The LG Optimus Elite goes on sale via Sprint's web site and telesales Sunday, April 22 for $29.99 after rebate with new contract. In-store availability is set for May 18. Exact pricing and availability for Virgin Mobile will be announced later.
---