Samsung Galaxy S Blaze 4G
Info Photos News Forum 4 Reviews 5
Samsung today announced the availability of TecTiles, small, programmable near-field communication stickers that can be used to activate certain actions on NFC-equipped smartphones. Using a separate Android application, the tags can be programmed to change device settings, such as join a Wi-Fi network or set the phone to silent; to initiate communications, such as a text message or a phone call; as well as to interact with social networking sites, such as to set Facebook status updates or send a message to Twitter. Users hold the phone against the tag, and it registers with a quick vibration, letting the user know that the phone read the tag. The TecTile tags can be programmed multiple times. The TecTiles work with a number of Samsung phones, including the Galaxy S III on AT&T, Sprint, T-Mobile, U.S. Cellular, and Verizon; the Galaxy S II on T-Mobile; Galaxy Nexus on Verizon, Sprint and global; the Nexus S 4G on Sprint; and the Galaxy S Blaze 4G on T-Mobile. The TecTiles are sold in packs of five for $14.99, and can be purchased at AT&T, Sprint, T-Mobile USA, and Verizon Wireless retail stores. The TecTile Android application is available for download from the Google Play Store.
---
Samsung recently updated the web site listing which of its devices will receive Android 4.0 Ice Cream Sandwich system updates. The update adds several devices being sold by T-Mobile, including the Galaxy S II, and Galaxy S Blaze 4G smartphones, and the Tab Plus 7.0 and Tab 10.1 tablets. Samsung didn't provide a timeframe suggesting when the updates might arrive.
---
T-Mobile USA today announced that the Samsung Galaxy Blaze 4G will be available in select T-Mobile stores starting March 21 for $149.99 with a new contract after a $50 mail-in rebate. It will reach all T-Mobile's sales channels by March 28.
---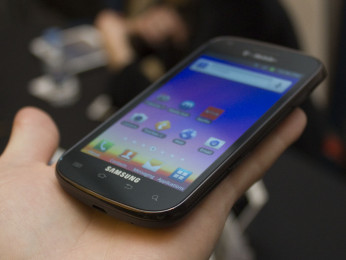 Samsung is showing off - for the first time in public - the speedy Galaxy S Blaze 4G for T-Mobile. The phone pairs a blazing fast processor with blazing fast data, in an affordable little package. Read on for our first impressions.
---
T-Mobile USA today announced that the Samsung Galaxy S Blaze 4G will go on sale in late March for $149.99 after $50 mail-in rebate. A specific launch date was not provided.
---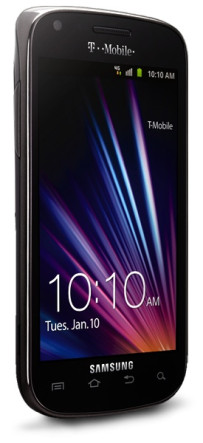 T-Mobile today announced a new 4G Galaxy-series phone from Samsung. The Blaze sports HSPA+ 42 Mbps data, a Qualcomm Snapdragon S3 dual-core processor at 1.5 GHz, and a Super AMOLED screen. It will be available "in the first half of this year." Further details will be announced closer to launch.
---