Samsung Galaxy S Lightray 4G
Info Photos News Forum 30 Hands-On › Our Review ›
Dyle mobile TV is now available in three more markets, improving its total reach to 57% of Americans. According to Dyle, customers in Baltimore, Jacksonville, and Salt Lake City now have access to its mobile TV service, which offers 116 stations across 39 markets. In addition to the network expansion, Dyle has signed another broadcasting group, Sinclair, which runs a number of NBC and CBS affiliates in major markets around the country. Dyle mobile TV is available on the Samsung Galaxy S Lightray 4G, which is sold by MetroPCS. Dyle uses ATSC-M/H, a special mobile variant of the same technology used for over-the-air digital TV broadcasts. Dyle TV content is free to access with the proper equipment.
---
MetroPCS today indicated that its joyn service can now be used on a wider range of its Android handsets. The service initially launched on the Samsung Galaxy Attain 4G. It now also works on the Samsung Galaxy S III and S Lightray 4G; the LG Connect 4G and Motion 4G; the ZTE Anthem 4G; and the Coolpad Quattro 4G. Joyn is a standards-based Android application that collects and merges messaging services, such as IM and SMS. The app lets users conduct threaded text conversations and supports presence, which lets users know when their friends are available. It also makes it easier to share photo and video content when the user is on an active phone call (this is traditionally not possible on CDMA-based devices). Last, it lets MetroPCS customers make voice and video calls to other joyn users via Wi-Fi.
---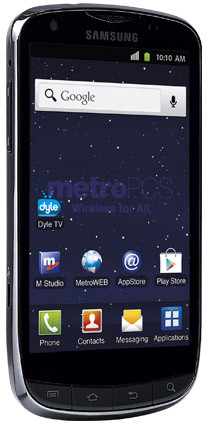 MetroPCS today made an official announcement regarding the availability of the Samsung Galaxy S Lightray 4G. The Lightray, which was uncovered earlier this week, is an Android 2.3 Gingerbread smartphone that offers access to the Dyle mobile TV service. The Lightray also includes LTE 4G, and is the first MetroPCS smartphone to offer LTE-based mobile hotspot. The Samsung Galaxy S Lightray 4G is available from MetroPCS's web site and stores for $459. It can be paired with plans that start as low as $40 per month.
---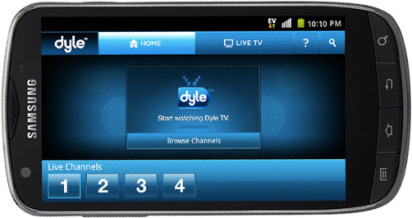 Phone Scoop has confirmed that MetroPCS is prepping to offer the Samsung Galaxy S Lightray 4G with Dyle mobile local broadcast TV. Dyle is working with local affiliates of major networks to offer local network TV on phones. The service is direct broadcast, not streaming over data networks. The Galaxy S Lightray 4G is an Android 2.3 phone similar to the Droid Charge. It has 4G LTE, an 8-megapixel main camera, front camera, and extendable antenna for Dyle reception. MetroPCS plans to offer Dyle service for free through the end of the year, but may start charging in 2013. The group behind Dyle is Mobile Content Venture (MCV), which includes NBC and Fox. Dyle uses ATSC-M/H, a special mobile variant of the same technology used for over the air digital TV broadcasts. MCV previewed Dyle at CES in January, where it detailed plans to launch with 33 markets, with at least two channels per market, for 70 total stations.
---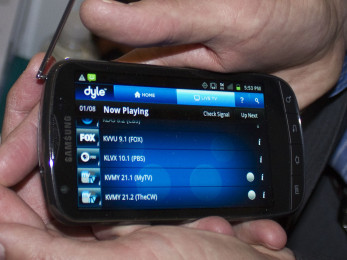 The folks from MCV are at CES showing off their Dyle mobile TV service running on an unannounced Samsung phone for MetroPCS. We checked it out and learned a few things about how Dyle will work and what content will be available.
---