LG Connect 4G
Info Photos News Forum 9 Reviews 4
MetroPCS today indicated that its joyn service can now be used on a wider range of its Android handsets. The service initially launched on the Samsung Galaxy Attain 4G. It now also works on the Samsung Galaxy S III and S Lightray 4G; the LG Connect 4G and Motion 4G; the ZTE Anthem 4G; and the Coolpad Quattro 4G. Joyn is a standards-based Android application that collects and merges messaging services, such as IM and SMS. The app lets users conduct threaded text conversations and supports presence, which lets users know when their friends are available. It also makes it easier to share photo and video content when the user is on an active phone call (this is traditionally not possible on CDMA-based devices). Last, it lets MetroPCS customers make voice and video calls to other joyn users via Wi-Fi.
---
Documents on the Federal Communication Commission's web site reveal that the LG Connect, announced for MetroPCS during the CES trade show earlier this month, is also headed to Verizon Wireless's network. The LG VS-840, which was recently approved by the FCC, supports CDMA 850/1900MHz and LTE 750MHz, which is unique to Verizon. The FCC also confirms that the VS-840 supports Bluetooth and Wi-Fi. The FCC earlier approved the LG MS-840 with CDMA 850/1700/1900MHz and LTE 1700/1900MHz, which is unique to MetroPCS. The MS-840 is being called the Connect 4G by MetroPCS. Verizon Wireless hasn't announced any details about the VS-840 version, including the name.
---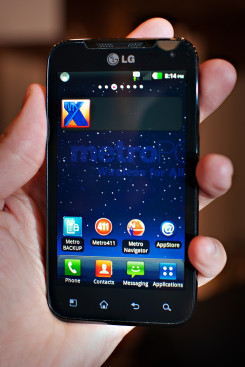 The LG Connect 4G is designed to be a relatively affordable LTE phone for carriers like MetroPCS. While it's small in size and price, it's no slouch in features. We spent some time with it.
---
MetroPCS today announced the addition of the LG Connect 4G to its smartphone lineup. The LG Connect 4G can access MetroPCS's Long Term Evolution 4G network and includes a 4.0-inch Nova display with Gorilla Glass and a dual-core 1.2GHz processor. It has a 5-megapixel main camera with a flash, and 720p HD video capture, as well as a user-facing camera for video chats. The Connect 4G also includes Dolby Mobile for enhanced sound. The Connect 4G will be available from MetroPCS within the coming month, though pricing was not disclosed
---