Huawei Mercury
Info Photos News Forum 8 Reviews 6
RadioShack today announced its own, branded prepaid wireless service that will run on Cricket Wireless's network. RadioShack No-Contract Wireless service will be available starting September 5 at RadioShack stores, and includes several smartphones, a feature phone, and services such as Cricket's Muve Music. The Huawei Pillar feature phone and the Huawei Mercury Ice smartphone will both be available this week, with two more devices to follow by the end of the month. The Mercury Ice (a white-colored Huawei Mercury) is a RadioShack exclusive and costs $149.99. Service plans mirror those of Cricket Wireless. They start at $25 per month and range up to $60 per month, depending on features and services.
---
Cricket Communications today announced that owners of the Huawei Mercury can now use the Muve Music service. Customers wishing to use Muve Music will need to update to the Muve Music plan, which offers music downloads, ringtones, and ringback tones, as well as unlimited messaging, unlimited 3G data, unlimited mobile video, and nationwide voice for $65 per month. The Mercury has a 4-inch display, 1.4GHz processor, and runs Android 2.3 Gingerbread.
---
The Mercury is out with Cricket, but CES has been our first chance to try one. It's and unusually high-spec Android phone for both Huawei and Cricket. How does it stack up? Read on to find out.
---
Leap Wireless has quietly begun using CDMA 1X Advanced networking technology in select portions of its network in order to more efficiently handle voice traffic. Leap confirmed that the Huawei Mercury, which went on sale in December, is its first device capable of using CDMA 1X Advanced technology, and that the carrier plans to offer more CDMA 1X Advanced devices during the course of 2012. By the third quarter of the year, all of Cricket's feature phones will include support for CDMA 1X Advanced. CDMA 1X Advanced can handle four times the number of voice calls in a single cell when compared to standard CDMA.
---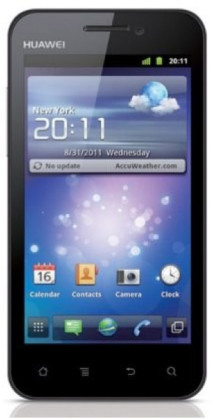 Cricket Communications today announced the addition of the Huawei Mercury to its roster of Android smartphones. The Mercury in driven by a 1.4GHz processor and includes a 4-inch FWVGA touch display; 8-megapixel camera with autofocus, LED flash, and HD video capture; a VGA user-facing camera; and Wi-Fi, Stereo Bluetooth, and mobile hotpot for up to five other devices. The Huawei Mercury is available starting today for $249.99 and can be used with one of Cricket's $55 monthly plans.
---
PCMag got an early look at an unannounced handset for Cricket, the Huawei Glory. The Glory will feature a 1.4GHz processor, Android 2.3.3 Gingerbread, and a 4-inch, 854-by-480 pixel display. PCMag reports that the Glory will be upgradable to Android 4.0 Ice Cream Sandwich come 2012. Other notable features include an 8 megapixel camera with autofocus and LED flash, Wi-Fi, GPS, Bluetooth, and 2GB of built-in storage. The Glory will run a customized version of Android, though PCMag notes that Huawei's user interface isn't as intrusive as other custom UIs. A release date for the phone is not yet available.
---