Band 71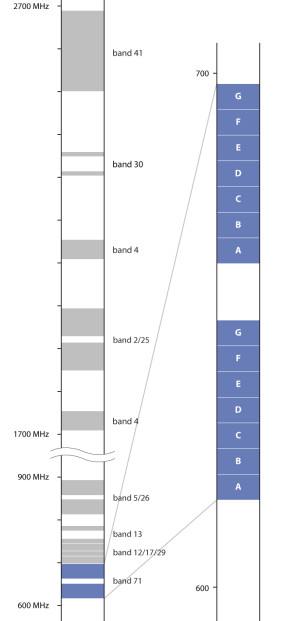 (600 MHz Band)
A radio frequency band near 600 MHz, used for mobile phones starting in 2017.

As a newer band, it is used exclusively for newer technologies such as LTE (4G) and NR (5G).

In the US, T-Mobile owns the licenses to most of band 71. They deployed LTE 4G in this band in late 2017, and added 5G in this band in late 2019.

The band covers the range of 617 - 698 MHz. It's a paired band, so 617 - 652 MHz is for towers to transmit to mobile devices (downlink), while 663 - 698 MHz is for mobile devices to transmit to towers (uplink).

The band is divided into seven equal-size blocks (A-G). Each block is 10 MHz wide, consisting of 5 MHz for uplink + 5 MHz for downlink.

This band is a lower radio frequency than most other bands used for mobile phones. Lower frequencies travel farther and penetrate solids better than higher frequencies. Therefore this band should provide superior service in rural areas and inside buildings.

The band was previously used for UHF TV channels 38 - 51. In 2017, the FCC concluded a unique type of auction -- called a reverse auction or incentive auction -- that managed the process of TV stations selling the spectrum to mobile network operators, and relocating TV channels that were previously using the band.