UFS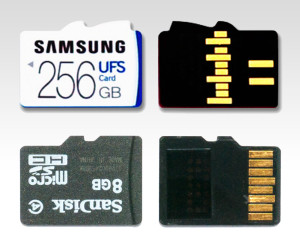 Universal Flash Storage

An industry standard for flash memory storage, both removable (cards) and embedded. It is a newer standard than eMMC (the basis for microSD cards), offering much faster data access and greater reliability.

See: microSD

UFS is a common technology for the internal (embedded) storage in phones. UFS comes in several versions, including UFS 2.0, 2.1, 3.0, 3.1, and 4.0. Newer versions generally offer better performance.

UFS removable memory cards are the same exact size as the popular microSD cards used in phones, but have a slightly different shape and completely different arrangement for electrical contacts. UFS cards will not work in devices that only support microSD. However it may be possible for manufacturers to create devices that support both UFS and microSD cards with one universal slot.