Band 25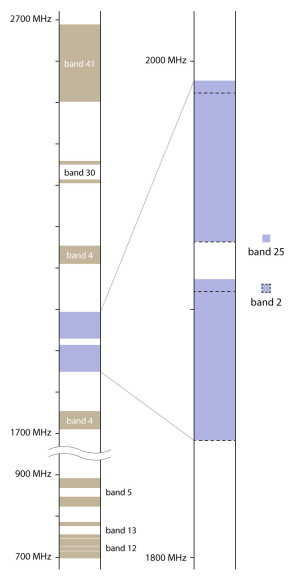 A radio frequency band near 1900 MHz. It includes all of the frequencies in band 2 (PCS), plus the newer "G block" that extends the band upward to a slightly higher frequency.

See: Band 2

The G block that extends band 25 beyond band 2 includes 1910-1915 and 1990-1995 MHz.

In the US, the "G block" was originally owned exclusively by Sprint and used for their 4G LTE network. T-Mobile now owns this spectrum since acquiring Sprint.

T-Mobile has announced plans to use the G block for space-based service covering the whole US in partnership with SpaceX, using Starlink 2.0 satellites. This service will offer basic messaging capability where terrestrial cellular service is not available. This service will work with phones that support band 25.