USB Type-C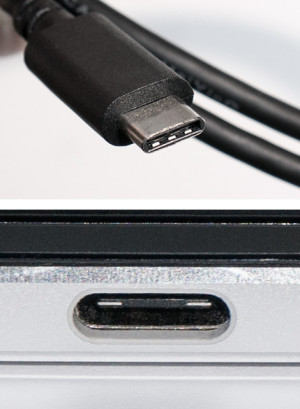 (USB-C)
A specific physical USB connector (plug and socket design) that hit the market in 2015. It is expected to replace micro-USB, and can also replace full-size USB connectors in any device where a smaller connector is advantageous (such as laptop computers.)

See: Micro-USB

Like most USB connectors, Type-C carries both power and data. It can be used to charge a mobile device's battery; it can also provide a wired data connection to another device, such as a computer or TV. USB is the industry standard physical connector for phones, for both charging and wired data.

See: USB

A Type-C connector is similar in size to micro-USB, but includes several upgrades. Unlike micro-USB, it is reversible, meaning it can be plugged in "either way"; there is no wrong way nor "upside-down".

Type-C also supports higher data speeds and larger amounts of power (enough to charge a laptop computer.)

Like micro-USB, a Type-C connector can support alternate modes such as HD video.