Hands-On: Nokia Lumia 610
Article Comments
Feb 27, 2012, 4:14 AM by Eric M. Zeman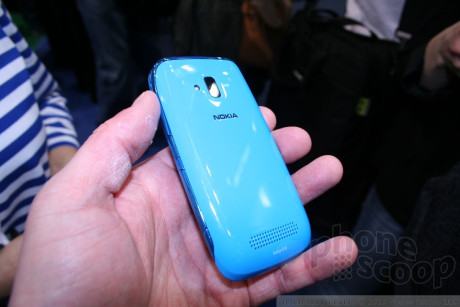 Nokia introduced the Lumia 610 today at Mobile World Congress, an entry-level Windows Phone that steps down the specs in favor of affordability.
The Lumia 610 is Nokia's lowest-end Windows Phone device. It really dials back the specs in order to meet a much lower price point. The device is being targeted at a younger user base, that which doesn't quite have the means to afford the Lumia 800 or 900.
In the hand it feels surprisingly good for a phone made of plastic. The outer shell is hard and strong and the phone is very well built. Nokia's manufacturing prowess is clearly on display with this device. It is light weight, has a small footprint, and will easily slip into your pocket thanks to the glossy, slippery casing.
I have to say that the controls were somewhat disappointing. The volume toggle, screen lock/power button, and camera button are all packed onto the right edge of the 610. The volume toggle is OK, but the power button is far too small and has terrible travel and feedback. The camera button felt a bit stiff. The 3.5mm headset jack is on top, as is the microUSB port. There are no controls on the left edge or the bottom.
The display looks very good. I have yet to be disappointed by a single display on a Windows Phone device, and the Lumia 610 doesn't change that. The smaller size works in its favor, as it lets the pixel density remain fairly tight.
The Lumia 610 drops the processor to a single core 800MHz job, ramps down the RAM to 256MB, and has a small screen. Even with these reduced specs, it was still surprisingly agile and speedy. The user interface is the same as any other Windows Phone 7.5 device, though it does have a few applications that are unique to Nokia, such as Nokia Transport, which is a really neat public transportation application that works offline and can be pinned to the home screen.
It is unlikely that the 610 will hit the U.S., but that's not too big a loss, as the 710 is a good phone and is already available.
No messages