Hands On: LG Optimus 4X HD
Article Comments
Feb 26, 2012, 1:37 PM by Eric M. Zeman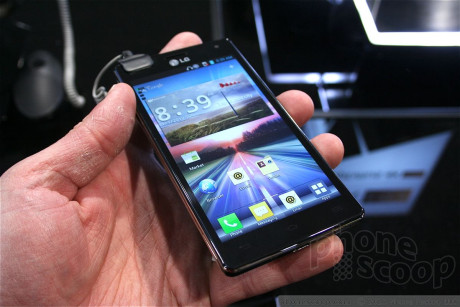 The 4X HD from LG is an interesting smartphone in that it is one of the lightest I've ever held yet it still manages to include a stunning display. Here are our first impressions.
Wow. The LG Optimus 4X HD is incredible. It has a true HD display and is one of the thinnest and lightest phones I've ever held. It boasts a four-core processor and an 8-megapixel camera to boot.
In the hand it feels excellent. Though the materials are plastics rather than nice metals, it still has an air of quality to it. There are sharper edges on this phone, and the battery cover has a grippy pattern on it that makes it stick in your hand. The controls are easy to find and use. I thought the volume toggle was slightly mushy, but the power/screen lock button worked perfectly.
I can't say enough about how stunning the display is in person. It looks fantastic. It is bright, colorful, and sharp. On-screen elements practically leap out at you. It has to be the best display to reach a smartphone made by LG.
The user interface is Android 4.0 with a light skin from LG. LG's software is the least intrusive I've seen on an LG Android phone. That's a big plus in my book. It can play HD movie with no problem and the browser was exceptionally quick (with Wi-Fi).
The phone is also blazing fast. With four cores under the hood, it transitions from screen-to-screen in an instant, apps open lickety-split and the phone never got bogged down or laggy. It was very quick. If there's one phone that LG brings to the U.S., I'd prefer this one over the Vu or 3D Max, thanks mostly to the impressive display and comfortable phone factor.
No messages