Hands On: LG Optimus Vu
Article Comments
Feb 26, 2012, 12:50 PM by Eric M. Zeman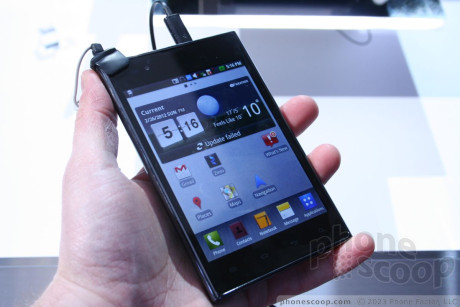 LG's Optimus Vu targets the phone-and-a-tablet seeker with its large and wide 5-inch display. Here are our first impressions of this behemoth.
Advertisements article continues below...
Optimus Vu
The Optimus Vu is, straight-up, ridiculous. It's the most awkward-looking and gawky phone I've ever seen. If you thought the Samsung Galaxy Note was huge, the Vu has it beat. The width is unreal. It is wide, wide, wide. I can't even come close to getting my hand wrapped all the way around it.
It's not that heavy, and somewhat thing, but the overall footprint makes it even more difficult to use one-handed than the Note. It is a two-handed phone, there's no doubt about that.
The display looks very, very good. It has a 4:3 aspect ratio and more than enough pixels so that all the on-screen elements look smooth and sharp. It is very bright, and was easily read even when held under harsh, bright light.
The user interface is Android 4.0 with a very light treatment from LG. LG's customizations don't get in the way of performance, as the Vu absolutely flies. Screen transitions were fast and smooth. Apps opened in a blink, and the phone did everything I asked it to instantaneously.
The hardware uses some new design language that was evident on LG's L-Series devices, with a patterned battery cover and such. The volume toggle and power/lock button worked well, but they can be hard to use given the Vu's size.
The Vu has several apps that are designed to take advantage of the screen, one of which is a total rip-off of the Galaxy S-Note app. It's called, go figure, Notes. It is a fine note-taking application and lets you write text, draw things, insert pictures and videos, and pretty much add any sort of content you want. You can also share the notes easily to social networking sites or even via email.
There is a new media manager application for playing your photos, videos, and music that is very intuitive and easy to use. There's also a cool video editing application so that the Vu can be used as a mobile video studio.
The Vu is an interesting device, no doubt, but it's a hard sell to anyone other than a giant.
No messages