HTC One X Offers LTE, Four Cores, HD Display, and Sense 4.0
Article Comments 7
Feb 26, 2012, 3:38 PM by Eric M. Zeman
updated Feb 26, 2012, 8:15 PM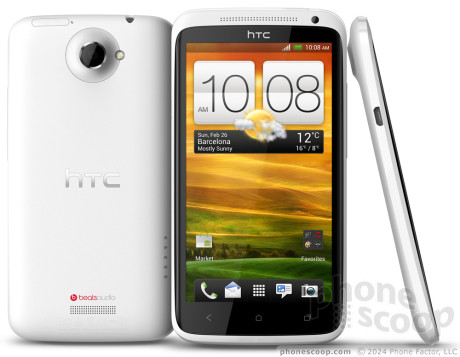 HTC today announced its flagship smartphone for 2012, the One X. The One X runs Android 4.0 / Sense 4.0 and is powered by the Nvidia Tegra 3 quad-core processor, with each core running at 1.5GHz. The One X embodies HTC's overall design and feature philosophy moving forward. The One X has a 4.7-inch LCD display with 1280 x 720 HD resolution, Gorilla Glass, and an 80-degree wide viewing angle. The HTC One S's main camera rates 8-megapixels and is supported by a separate "ImageChip" to boost speed, reduce noise, remove color bias, and improve picture quality. It has an F/2.0 lens with back-side illumination for better low-light performance, a five-element LED flash, autofocus, and can shoot pictures as quickly as one every 0.7 seconds. The One X captures video at 1080p HD, offers slow-motion video capture, and has a feature called Video Pic, which lets users capture still images while recording video. The One X supports Beats Audio across all music apps, a new HTC-designed music app and media transfer app, and microUSB/MHL out for sharing media. Last, the One X will support AT&T's LTE 4G network, but in order to do so drops the quad-core Tegra 3 in favor of a Qualcomm Snapdragon S4 processor. It will launch by the end of April, but pricing wasn't disclosd.
source: HTC
NO QUAD CORE FOR YOU LTE CUSTOMERS?
👿
To say I'm disappointed is a Major MAjor MAJor MAJOr MAJOR UNDERSTATEMENT of 2012
...what the heck happened to all the hype of promising us LTE speed and Quad Core technology??
..now I read that only Huawei is the only maker to offer LTE AND QUAD CORE, but not till Q2 of 2012?
...why can't the BIG BOYS do this if THIS company can?
So which carrier will carry the X?
Darn you, AT&T...
... you couldn't leave well enough alone, you had to downgrade the processor.
LTE, Four Cores, HD Display.. and 10 minutes battery life?
🙄

The march of technology is great, SRSLY. Cellphone marketing has turned into the same b***s*** we see with PCs.

I have a Samsung Galaxy S2, and it works great but it can't even last a whole day without recharging, and that's worse than my Nexus One.. which in turn was MILES worse than my Nokia N80 was before it which could still last 3 days on a charge.

What kind of battery life do you think this monstrosity will have with an even bigger screen, and 2x more CPU cores to feed?
My cellphone isn't a PC. It isn't a game console. It isn't a book reader. It isn't a TV nor a movie theatre. And it's only rarely a music player.

So how about getting back to making smartphones that are smart enough to last even 24 hours without...
(continues)
Sounds like this phone isn't for you. I am sure there are some early adopters who cannot WAIT for this thing to drop, however. Of course, I am too cheap to pay the contract price for this thing or I would surely be standing in line to get it. As fo...
(continues)