A Visual Guide to AWS
Intro Bands Blocks Licenses Plans Comments 55
Oct 15, 2006, 11:04 PM by Rich Brome @rbrome
Everything you wanted to know about AWS but were afraid to ask, plus frequency bands explained.
Advertisements article continues below...
The U.S. government recently auctioned off a large, important band of radio spectrum called AWS. There's a lot of confusion about the new AWS band these days, so we've created this handy guide to explain all the nitty-gritty details.
Although this article focuses primarily on AWS, it's hard to explain AWS without touching on some general radio spectrum topics and the other major cell-phone bands, so we'll cover some of that, too.
The AWS auction was conducted by the FCC (Federal Communications Commission,) the arm of the government responsible for (among other things) regulating radio spectrum and the industries that use it. The auction took place August 9 - September 19, 2006.
AWS stands for Advanced Wireless Services, although that's really not important. The FCC gives each band a name mostly just to make them easier to refer to. AWS, PCS, BRS, WCS... are all just arbitrary names for bands.
Each band is designed with certain types of services in mind, and therefore has some rules associated with how it can be used. AWS was designed with "3G" mobile phone service in mind, so it does come with rules that would make it unsuitable for wildly different uses like satellite communications or TV broadcast, for example,
However, in keeping with our government's free-market policies, the FCC does not usually mandate that specific technologies be used in specific bands. Therefore, companies that are proud new owners of AWS spectrum are free to use it for just about any 2G, 3G, 4G, or future mobile phone (or similar) technology, as they see fit. This is in contrast to Europe and some other parts of the world, which do mandate that specific technologies (like GSM or WCDMA) be used in each band.
One critical thing to understand about radio spectrum is that it's all allocated for something. Spectrum is a limited and extremely valuable resource. There is very little "empty" spectrum that isn't used for anything. In fact, this is what the US radio spectrum allocation chart looks like: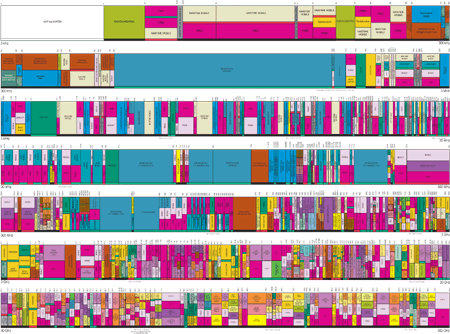 Each little section of that chart has a different use. Some is used by the military, police and firefighters. Other parts are allocated to boats and planes, and satellites take a fair chunk as well. RADAR uses radio waves, so there are bands for that, too.
The huge blue sections you see are for analog TV and FM/AM radio broadcasts. Obviously they take a huge chunk of spectrum, which is why the move to digital TV is so important; it's much more efficient and will free spectrum for other uses. Some UHF analog TV channels have already been freed up and sold to companies that will use them for live digital TV broadcasts to cell phones.
So if the spectrum is so crowded and all in use, where did the AWS band come from? Some of it was actually very rare unallocated spectrum, but much of it was used by the government, including the Department of Defense. Therefore, in December 2004, congress ordered the DoD to vacate that spectrum, and established a Spectrum Relocation Fund to pay for replacing all radio equipment using that spectrum with new equipment that will use different spectrum.
That kind of relocation is very difficult and expensive, which is why it doesn't happen often. It's also why the FCC has very limited options when trying to carve out "new" spectrum to auction off.
All cell phone service requires radio spectrum bands to operate in. Companies offering cell phone service need licenses from the FCC in order to use those bands.
Such licenses are usually sold at auction, but those auctions are rare, and once the licenses are sold, the winning bidders then have a lock on that spectrum. New companies entering the market can't just buy new licenses; they generally have to find some way to deal with the companies that hold the existing licenses.
The same is true for existing companies that find they need more spectrum. Each call and each data connection takes up a bit of spectrum, so as the population grows and more people use cell phones, networks require more spectrum to handle the additional calls and data usage.
Upgrading to new "3G" technologies also requires additional spectrum. Newer technologies are more efficient, but companies usually need to keep the old networks running for many years while they roll out the new technology and transition to it, so customers with old phones aren't left behind. Often the new and old technology each need to run in their own separate chunk of spectrum, (as is the case with EVDO and WCDMA,) so a surplus of spectrum is required to make such upgrades.
But companies can't just knock on the FCC's door and say "more spectrum please." That's part of what motivated Cingular to buy AT&T Wireless, and Sprint to buy Nextel. Spectrum is valuable enough to drive large mergers and acquisitions just to obtain more of it.
Large spectrum auctions by the FCC have historically happened about once a decade, but technology seems to be moving faster and requiring more spectrum these days, and no one knows for sure when the FCC will be able to auction off more spectrum after AWS.
All of this is why spectrum is the strategic asset for any wireless company.
Lack of spectrum is why T-Mobile hasn't been able to launch 3G before now. Lack of spectrum also hindered Verizon's EVDO rollout in some areas, until they found a company willing to sell them existing licenses in those areas.
Conversely, a surplus of spectrum is what has enabled Sprint to rent out its network to a large number of new MVNOs, without worrying about running out of spectrum for its own customers.
That's why AWS spectrum is so valuable, and why most of the large industry players plunked down megabucks to buy some of it, even if they don't yet know what they're going to do with it. No wireless company wants to end up needing more spectrum five years from now, and not able to get any.
Spectrum Allocation chart from the article
Is there someplace we could download a visible copy of the Spectrum Allocation chart in this article, or is that something proprietary and not to be downloaded? I tried saving a copy and printing it but the details were not visible (it was too small). Thanks.
Cingular Wimax
There are strong rumors that next year Cingular will roll out Wimax services. One of the first will be New York
Are you sure someone didn't confuse Cingular with Comcast? 😕
I don't think anyone has announced WiMAX equipment for the AWS band. I'm not even sure the FCC rules for AWS would accomodate WiMAX (although I could be wrong.)
.... and when that system falls on its butt, maybe people will realize what a bunch of garbage the Wimax standard is to begin with.
Alltel??
Why no Alltel 🤨 ? They seemed to me to be one of the biggest players as far as non national providers. And yet no AWS purchases? Not even a newly created small company to help them buy it cheaper. To me that looks like they don't want to spend any of the companies revenue on spectrum possibly to maintain current company value? Perhaps Verizon is plaaning on buying more than just spectrum. Wink Wink 😉 Seeing as how they are already one of Verizon's biggest roaming partners that would explain them being absent from the auction. Verizon's goal seems aim at being the spectrum king.
I think actually Alltel did do some purchasing but under a different name.
So is that why...
In other words - in the chart above - phones "listen" on the blue bands, and "talk" on the green bands. Vice-versa for towers (which in industry lingo are called "base stations".)
Scenario:
I am talking to someone on my phone on the 850 band when static starts to come in the listening end, yet when I speak the other party hears me fine.
Is that because my voice is being transmitted in the lower half of 850, therefore able to punch through buildings and go further, but the tower signal, coming on the top half of 850 can't quite connect as well?
Am I putting 2 and 2 together properly, or does the difference of 5-10 MHz not matter nearly that much?
The difference is actually closer to 50 MHz, but that's still not very significant when it comes to how well the signal penetrates walls, etc.

I think it's more just that the send and receive bands are separate, so if there's interference or someth...
(continues)
T-Mobile Spectrum?
Great article, although it does raise one question for me. In the article, you claim that the AWS spectrum, as well as the spectrum T-Mobile bought, corresponds to the UMTS bands used in Europe (at least the 2100 part), which will make it easy for existing 3G phones to work on AWS spectrum. The quote from the article is: "The upper part does line up perfectly with Europe's UMTS 2100 band, and the lower part does line up with Europe's DCS band. Therefore manufacturers already building GSM+WCDMA "world phones" actually won't have to support any additional frequency bands at all."

In T-Mobile's recent 3G announcement, they claim the AWS spectrum they bought is unfortunately "a few megahertz off from the UMTS 2100 used elsewhere, meaning exis...
(continues)
Because, as this article says and the chart shows, the lower half (the half used for phone-to-tower) is completely different. It lines up with DCS, but not UMTS 2100.

"a few megahertz off from the UMTS 2100 used elsewhere" isn't really accurate. Th...
(continues)
...so was that really not clear from the article alone? ...because that's pretty much the single most important thing I was trying to explain by writing this article. I hoped the second chart on this page would explain it:
https://www.phonescoop.co »
...
(continues)
Here is the deal. it is'nt what T-Mo got it is what they are going to do with what they now have. As most people know T-Mo does not give a HOOT about watching TV and VIDEOS on your phone ( we have enough accidents with people talking on the things ) T...
(continues)
I know you just clarified it in like 2 or 3 different ways, and i do understand the different reasons... but will his E61 never pick up even that second half of AWS that does in fact line up?

So, i guess what im asking is it ALL OF BOTH OR NOTHING...
(continues)
One of my original strategies with this article was to rely on graphics to explain some of the more complex issues, but your feedback helped me realize that the major points need to be explained in detail in the text as well, so you know what to look ...
(continues)
SUPER article. Thanks Phonescoop!
Thanks for breaking these new spectrum details down for us. Very informative.
Agreed! Great job Rich and Eric!
Awesome article. It is nice to now understand how spectrum works and why it is so important. Thanks Rich Brome! 😁
Great article, THANK YOU!
Hear, hear! Excellent write up. You break it down clearly and efficiently. Thanks.
Will VZW expand into new areas now?
With the Verizon Wireless license in all of the eastern U.S., will VZW expand into new areas where Alltel already operates, to help competition with Cingular in some markets?

If so, this would be a great advantage to many people, including more choices for consumers.
Cricket and UScellular "just playing by the rules"
First off, VERY informative article.

anywho, wasn't the FCC trying to discourage this by getting rid of blind bidding? Barat and that other co. just seem like corporate puppets.
Blind bidding, designated entities... yes, it's all very controversial, for obvious reasons.

Yes, the FCC did try reduce the amount of such shenanigans in this auction, and it is in fact much better than some previous auctions.

Without being an ...
(continues)
AWS causing mergers?
Any word or thoughts on a possible merger btwn Cricket and MetroPCS? they offer the same type of service and i think they are affiliated in some way. if they merged they might be able to offer some better competition to the already established "big boys."