Kyocera DuraPlus Brings Durability to Sprint
Article Comments 21
Jan 31, 2012, 10:13 AM by Eric M. Zeman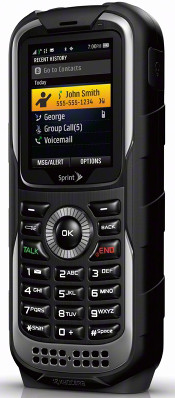 Sprint today announced the upcoming availability of the Kyocera DuraPlus, a candybar-style ruggedized push-to-talk phone. The DuraPlus meets military standard 810G for protection from dust, shock, vibration, temperature extremes, humidity, blowing rain, and water immersion. This Direct Connect-capable handset also boasts an LED flashlight with a dedicated power button, and Group Connect, TeamDC, Nextmail, and One-Touch Direct Connect. The DuraPlus does not have a camera, but supports Bluetooth 2.0+EDR, includes a 2.5mm headset jack, has a power-efficient display, and a flat bottom so that it can stand up when placed on a level surface. Pricing and exact availability will be announced closer to launch.
A knockoff of the Moto i365
The Kyocera DuraPlus might be a nice phone, but it obviously owes it's basic design to the Motorola i365 (which is a darn good phone).

I just don't get why Sprint didn't ask Motorola to take its best Nextel phones (i580, i365 for example) and swap out the iDEN chipset & replace it with a CDMA chipset. That would make the transition for us long-time, diehard Nextel users more palatable. The iDEN Motos are a known quantity, whereas the Kyocera phones are complete unknowns when it comes to ruggedized models.

But good old Sprint, in its infinite wisdom (not) has so far commissioned only Kyocera phones for the new Sprint Direct Connect PTT phones. Just like everything else Sprint does, you have to slap your forehead in amazement.
I actually have high hopes for this new phone. To tell you the truth, I haven't had any experience with the new Kyocera phones, not since Kyocera bought out Sanyo's phone division. Back when Sprint sold Sanyo phones, pretty much all of those phones we...
(continues)
NextMail
Interesting, I thought that feature was exclusive to Nextel phones and this is a CDMA phone, right?
The current PTT network (iDen) is being phased out starting next year due to it's obsolete data speeds and the overall infrastructure costs of running two separate networks. CDMA walkie talkies are going to be the standard. See this article from Cnet ...
(continues)
CDMA should be able to do this quicker or maybe in real time. The neat thing is that now that this is CDMA based, it could be a feature such as PTT that we may see as an application for Andriod someday.
Actually, Pacific DataVision (the company that runs NextMail for Nextel), also has similar services for CDMA & GSM phones. It's not EXACTLY the same as NextMail, but it has been available for non-Nextel users for several years.
http://www.skymail.n »
...
(continues)
anyone remember the
Sanyo SCP-7200 better known as the R(eady)L(ink) 2000?? Everything old is new again.
I do remember that phone. I didn't have one, but I had its great-granddaddy, the SCP-4500. Now that was one tough phone! My service sucked, but the phone was built like a tank.
Not exactly exciting but,.....
Working for SPRINT as an indirect dealer with quite a few business accounts, I am glad to see an alternative come out in the "DURA" series. Looking forward to having choices for my PTT customers, who need rugged phones for the job sites.