Nokia Reveals New Megapixel Smartphone
Article Comments 34
Sep 23, 2004, 9:10 AM by (staff)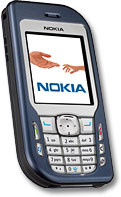 Nokia today announced the 6670, a new GSM smartphone with a megapixel camera. The phone is similar to the previously-announced 7610 smartphone, with a more traditional design. Features include video capture, Bluetooth, an RS-MMC memory card slot, email with attachments, a NetFront browser with PDF support, and viewers for Microsoft Office documents. The 6670 will be available in October in tri-band versions for both Europe/Asia and the Americas.
MegaPixel Smegma Pixel
Until Nokia and others uses a decent sensor like the mp CCD in the Sharp GX30/32 and TM150, megapixel means nothing. With the 7610 and presumably with this phone, all you get is a larger version of the smeared low quality picture your VGA phone takes now.

I'd buy this phone or a 7610 in a heartbeat if the camera was good.
Nice! I want one 🙂 Mega Pixel Smart phone :drooooooool: 😁
CainMarko said:
I'm there.
Me too, seeing as Nokia smoothed out the 7610's design.
Egads!!
I think we have a new winner, when will it be release in the states??? I was waiting on the 6230 but I might wait for this, it is some sort of superphone!