Samsung Intros Its First Dual-SIM Smartphones
Article Comments 7
Dec 22, 2011, 8:54 AM by Eric M. Zeman
updated Dec 22, 2011, 9:00 AM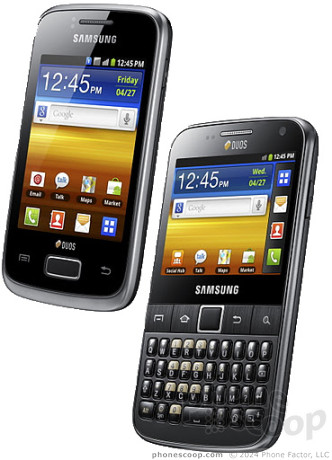 Samsung today announced two new Galaxy-branded Android smartphones that are its first to include support for two SIM cards. The Y Duos is a slab-style device with a 3.14-inch display and 832MHz processor, while the Y Duos Pro is a monoblock QWERTY device with a 2.6-inch touch screen. Shared features include 3-megapixel cameras with video capture; Bluetooth 3.0, Wi-Fi, and GPS; accelerometer, compass, and proximity sensors; and support for microSD cards up to 32GB. The Galaxy Y Duos and Galaxy Y Duos Pro both run Android 2.3 Gingerbread and will be sold in African, Asian, and South American markets starting in 2012.
SAMSUNG, ARE YOU BLIND??
Dear Samsung: what the hell is wrong with you? The Duos Pro is very close to being the dream device that millions of disgruntled Blackberry users have been waiting for - and you're not gonna sell it in North America?? Are you completely out of touch? Your brand is red hot right now and you're passing up a potential gold mine! You can ditch the dual SIM ability, we don't care that much about it in NA. But whatever you do, GET THIS DEVICE INTO THE HANDS OF AMERICANS AND CANADIANS with Android 4.0 and a slight bump in specs as fast as you possibly can. At least a 5 megapixel camera please, and a taller screen. The giant Samsung logo in the middle is unnecessary..you could easily put it on the battery cover (or shrink it and put it ...
(continues)
So...
Could you have AT&T and T-Mobile service at the same time on one phone with this? O:
You could, but you wouldn't get 3G on either one. This phone has no NA release planned, which means that neither AT&T nor T-Mo's 3G would work. Both carriers use proprietary 3G standards, although I've heard that AT&T phones can get low-end 3...
(continues)
two SIM cards?
So that means two numbers in one phone? That would be great for personal line and business line in one device. I've been wanting this for years!
Same here, been wanting to have a separate business number without carrying another phone.

I wonder how this could be implemented for cdma carriers that don't use sim cards? Maybe it could work with Voice-Over-LTE technologies that require sim card...
(continues)