C Spire Wireless Announces Sonim XP 3400 Armor
Article Comments 4
Dec 15, 2011, 12:07 PM by Eric M. Zeman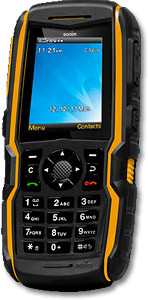 C Spire Wireless today announced that the Sonim XP 3400 Armor phone is available via its web site and telesales. The XP 3400 is a BREW-based handset that has been ruggedized for use in outdoor or harsh environments. The phone is certified against salt, fog, humidity, shock, and operates in temperatures ranging from -5 degrees F to 130 degrees F. The display measures two inches, has 240 x 320 pixels, and is protected by Corning's Gorilla Glass. It has an IP (ingress protection) rating of 68 and can withstand submersion in 6.5 feet of water for up to one hour. Other features include a 2-megapixel camera with LED flash (and flashlight) and video capture; noise cancellation with a very loud 23mm water-resistant speaker; and an FM radio, Bluetooth 2.1+EDR, media player, and support for microSD cards up to 32GB. The XP 3400 is compatible with BREW applications, and includes an email client and web browser. The Sonim XP 3400 Armor is costs $49.99 after a $50 gift card.
Why so cheap?
This thing costs dime on the dollar in respect the whole Sonim line. . .wonder what the no contract price is.
It costs around $250 no contract, it is not android or touch screen so really it is a candy bar phone that is mil spec rugged, which runs about $125 or so.

It looks like a De Walt power tool, not very attractive but who cares, the Ice Road Trucker ...
(continues)
Will it Blend?
Guys - check out the will it blend on youtube for the Sonim device, and then check out the will it blend for the iphone. The iPhone is destroyed in literally 2 seconds (no exageration), where as the Sonim phone (not this model, a different one) Is destroyed, but it remains in-tact and for better or worse, in one piece. This is DAMN strong phone line.
You can literally throw these phones against a wall and nothing would happen.
Great for the construction field or the heavy trekker.