Nokia Reveals Fashion Phone Trio
Article Comments 15
Sep 9, 2004, 11:12 AM by (staff)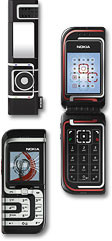 Nokia today revealed a collection of three new GSM phones, all with unique art deco styling. All three models are tri-band GSM 900/1800/1900, and include EDGE high-speed data, VGA camera, FM radio, and speakerphone.
7280: Unique stick-shaped design with a keyless dial and voice-activated interface, in place of a traditional keypad. Also includes a color display, Bluetooth, and streaming video playback.
7270: Clamshell clad in stainless steel and changeable textile covers. Features include video capture, MP3 ringtones, Java, streaming video playback, and dual color displays.
7260: Bar-style model with video capture and Java.
All three models will available 4th Quarter 2004.
Nokia Phones are so ugly
Nokia needs to join up with nokia or samsung and learn how to design a frekin phone. The phones are so fugly and will sell like crap if they come to the US unless there free. They need to discover the LINE OF Cemetery so the phones are even on each side. But they do have the features, but all they need to get down is the design.
MrFisch13 said:
Nokia needs to join up with nokia or samsung and learn how to design a frekin phone.
sorry, i had to point that out. breathe before you rant. In other news, i have to say, that while the lines all o...
(continues)
MrFisch13 said:
the LINE OF Cemetery
So you want their phones to look like tombstones? That's actually a great idea. Nokia doesn't appeal to the goth/punk crowd enough. 😛
Or, perchance, are you referring to the ...
(continues)
Personally, I think these phones are pieces of art. No other phone manufacturer has (successfully) broken the current boundaries of phone design and functionality, over and over again, like Nokia has. And they've done it again.
Judging by your spe...
(continues)
Very slick
I like what Nokia has been doing with it's line lately - they may be weird but they're usually very well designed and practical. The styling they have been using lately is really awesome, I like the smooth futuristic look of a lot of their new phones.

And we know they won't be creaky or break often like the highly fashionable Motorola phones are practically guaranteed to.