Nokia Shrinks Communicator
Article Comments 2
Sep 8, 2004, 12:35 AM by (staff)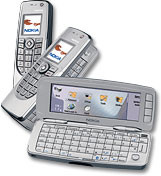 Nokia today announced the 9300, a new high-end smartphone based on the company's Series 80 platform. Like the 9500 model announced in February, the new device is a full-featured phone with a color display when closed, and opens to reveal a large widescreen display and full QWERTY keyboard. Compared to the 9500, the new model sheds the camera and wi-fi to become more compact, while keeping EDGE high-speed data, Bluetooth, a memory card slot, and speakerphone. The device also supports RIM's BlackBerry Connect e-mail service, a feature that Nokia also recently announced will be available for the 9500 model. The Nokia 9300 is expected to be available 1st quarter 2005, in tri-band versions for both Europe/Asia and the Americas.
Does the Nokie 9300 have a WIFI browser?
I am looking for a phone with a QWRT keyboard, Pall or Pocket PC operating system, and a WIFI-enabled browser. Basically, I want a Jornada 680 with built-in phone and WIFI capabilities. Is the Nokia 9300 the best phone for me or is there something better out there?
In my previous posting, I meant to refer to the PALM operating system. My posting should have read:

I am looking for a phone with a QWRT keyboard, Palm or Pocket PC operating system, and a WIFI-enabled browser. Basically, I want a Jornada 680 wit...
(continues)