Hands-On: LG Nitro HD for AT&T
Article Comments 1
Dec 1, 2011, 6:52 PM by Eric M. Zeman
updated Dec 6, 2011, 1:55 PM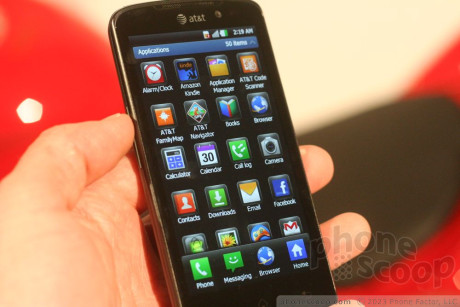 Phone Scoop was able to spend some time with the LG Nitro HD. This new Android phone from LG brings an HD display and LTE to the table. Here are our first impressions of the Nitro.
LG held an event in New York City this evening to show off the new Nitro HD, its first Long Term Evolution Android smartphone for AT&T's network. We had a chance to spend some time with it, and here are our initial impressions.
The Nitro HD is thin, light, and comfortable to hold. The materials are plastics and glass, no metals, but they manage to avoid feeling and looking cheap. That's not to say that the Nitro HD isn't a plain-looking black slab like nearly every other Android smartphone these days. Truth-to-tell, there's very little setting it apart from Samsung's Galaxy line of smartphones (but don't tell LG I said that).
The back and side surfaces are covered in a textured plastic that has a really fine gradient to it. Rather than feel rough, as do some textures, it has a smooth, comfortable, fine sand-paper feel to it.
There's no creaking, no looseness, just a solid, tight piece of hardware that feels good through and through.
The 1280 x 720p HD display is ridiculous. It's not just bright, it's as sharp and crisp as they come. The Android icons, graphics, and Android menus look spectacular. They couldn't be clearer. There's not a single, individual pixel to be seen anywhere. I can't wait to watch HD content on it. The glass itself feels wonderful under the thumbs. It is very smooth, feels strong, and is a pleasure to rub fingerprints all over.
The volume toggle is on the left side of the left side of the phone, and has a nice feel to it. It is easy to tell if you're pressing the up or down side of the toggle, and the travel and feedback is outstanding.
There are no controls on the right edge of the bottom. Instead, everything else is bunched up on top. The 3.5mm headset jack, the microUSB port (and protective hatch) and power/lock button are all packed on the smallest surface the Nitro HD has to offer.
The power/lock button is really small. In fact, it is too small. Travel and feedback is a bit weak, too. The hatch protecting the microUSB port is fine, though I'd rather it weren't there. It is a standard microUSB port, though it supports MHL/HDMI via an adapter.
The user interface feels like mostly stock Android, but have been given a slight face lift by LG and AT&T. The icons have a brighter and more "designed" look to them. They don't look like the 1980s video arcade icons that stock Android icons do.
LG has its own tool for customizing the home screen with widgets and shortcuts, etc. It slides up from the bottom of the screen and give you a small selection of widgets, etc., in grid form to choose from. I get it, it makes sense. You can easily parse between widgets, apps, shortcuts, and folders using this tool thanks to some sorting buttons at the bottom.
The menus and Android apps themselves all look as they do on any other Android device. I noticed zero problems with the performance of the device. It did everything in the blink of an eye, with no hesitation or stuttering.
The Nitro HD is also an LTE phone, but we're unable to give that a test run in New York City, as AT&T has yet to launch LTE here.
Our first impressions of the Nitro HD are positive. It is a solid smartphone entry from LG. I wish it had more personality, but what it lacks in individuality, it makes up for in basic performance.
Wow.
I am actually impressed with this phone. Not so much the specs but the ATT LTE 4G speeds if they are really those that were being tested... Impressive ATT.