Holiday Gift Guide 2011
Intro Reaching Out Targeted Tech Budget Comments 18
Nov 22, 2011, 8:37 PM by Eric M. Zeman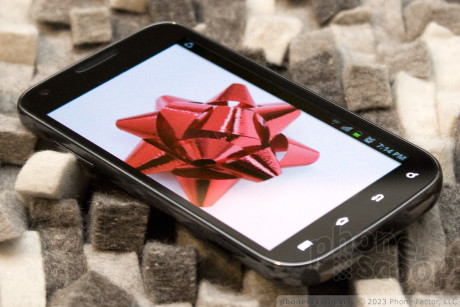 With the holiday shopping season upon us — heck, it's staring us dead in the eye — it's time to start putting together shopping lists. If your friends or loved ones need a new mobile device, Phone Scoop did all the heavy lifting for you and put together this simple guide to help you select the perfect gift.
Advertisements article continues below...
Hard to believe it's that time of year again, but here we are once again facing Turkey Day and Black Friday.
With the holiday shopping season officially kicking off this week, Phone Scoop has prepared its annual buyer's guide to help you navigate through the dozens of phones that are available at each of the major carriers. We've looked at what AT&T, Sprint, T-Mobile, and Verizon Wireless are offering and picked the cream of the crop for the discerning gift giver.
We did our best to keep prices low. Many of the phones on our list this year retail in the $50 to $100 range, though the top-tier smartphones are priced closer to $200. Keep in mind that holiday sales may drop prices even lower. In fact, retailers such as Amazon and RadioShack are already offering high-end smartphones for a penny and even for free. If a deal is what you're looking for, this is the week to get one.
Phone Scoop believes the first step in choosing the right phone for someone is to choose the right carrier. Finding the right device is important, but picking the carrier with the best combination of coverage and calling plans is often the best place to start. Also, keep in mind that many people are invested in their relationship with a carrier and might want to stick with what they have.
This year saw an interesting phenomenon: the near-death of the feature phone. Sure, plenty of basic phones are still available from the likes of LG, Kyocera, Pantech, Samsung, and Huawei, but many of the phones released this year fall into the smartphone category. Take quick messaging phones, for example. Feature phones with QWERTY keyboards and dual displays were all the rage in 2007 - 2009. They were inexpensive, and didn't necessarily require a data plan. Now, the category has essentially vanished, only to be replaced by low-cost Android smartphones that have QWERTY keyboards.
Phone Scoop believes the best way to pick phones for people is based on how that person will use their phone. As long as you know the person you're shopping for and what they tend to like, you should have no problems picking the right carrier and the right phone for him or her.
After you've picked out the perfect phone, there's still one more thing to do. When you or the lucky person you're giving a phone to has moved everything off of the old phone, don't just toss it in your junk drawer or a closet corner, recycle it. If you want to know anything about phone recycling, from reasons to do it to where to take your phone, check out our Cell Phone Recycling Guide.
Frustrated
Phone Scoop, come on! All the messaging phones are smart phones. Sometimes people don't want to pay the ridiculous data prices on smart phones and want a decent feature phone that's good for messaging. Wait, maybe this isn't your fault. Carriers aren't really carrying those any more. Stupid greedy @#$#%$%!
3D Phones!
I've owned the AT&T LG Thrill 4G phone for 1mth and used many features often and agree with all of the GREAT THINGS said about this phone (an Android update will come and I bet it'll be 4.0 instead of 2.3, likely by the end of 2011 due to Google's 18mth upgrade promise), but must add ONE CON! Why does this phone not have a charge indicator light?

BEFORE YOU BUY, based on BarnettJr2's tips, pick up this phone at Costco for $30 w/$FREE accessory kit (too tight case, fine car charger, & ok screen protector)(Sign up for a new Costco membership to save more!)! And you can get this phone at Best Buy for $FREE right now!

I bought this phone for the 3D. This is the 2nd 3D phone available in the USA (Sprint HTC EVO 3D was 1st). LG's Thrill 4G ...
(continues)
What No US Cellular phone pick!?
This is the reason why I still have issues with Phone Scoop. They do a holiday Gift Guide. They put the big four. Then at the end, they put the prepaid companies. But, Not US Cellular! It is the 6th biggest mobile company. But no picks for USCC.

I hope Phone Scoop is reading this and make an some changes to USCC in the Holiday Gift Guide. They have great phones and plans. And Phone Scoop has talk about phone launches that USCC did. But, no mention of USCC in the guide.

☹️

My two cents.
Sorry about that. But I'm afraid we have to draw the line somewhere. As soon as we go regional, there could be literally hundreds. I think "national" is a good place to draw the line. (And companies with their own networks, not MVNOs or sub-brands.)
and honestly, how can a company call themselves "US Cellular" when they serve just a couple of states in the south and midwest? Last time I checked the US has 50 states. Doesn't matter if they have free roaming either. If you're gonna call yourself US...
(continues)
I think you got the phones for "Kids" and "Seniors" backward for AT&T
The Pantech Breeze III is supposed to be the senior-friendly phone, so the Z331 would probably be better for the kids. Just my two cents 😁