Hands On with the ZTE Chorus for Cricket
Article Comments 5
Nov 8, 2011, 9:23 PM by Rich Brome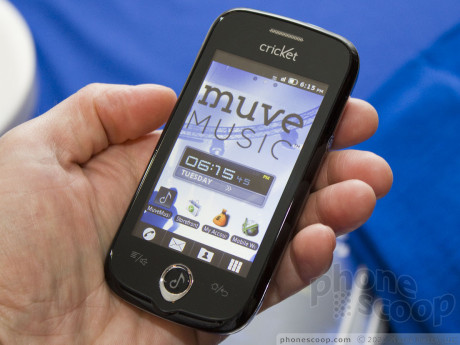 When is Android not Android? When it's the ZTE Chorus for Cricket. This unique music-focused feature phone reminds us of the Motorola i886 with its unique use of Android software to create a powerful phone that isn't actually a smartphone. Read on for our hands-on impressions of this curious creature.
The Chorus is what happens when ZTE tries to make a powerful feature phone with Cricket's Muve Music app and a great browser. To achieve that, they basically took the Score - one of the cheapest Android phones around - and made it even cheaper. In the process, they took out so much that it doesn't officially qualify as an Andorid phone anymore, even though it's technically running Android software inside. Critically, there's no Android Market; you can't load third-party Android apps on it. But that's okay, because you won't see this phone marketed as a smartphone at all. They're positioning the Chorus as a smart feature phone, and that it is.
The Chorus is 90% Android, and that makes it one unique and pretty intriguing feature phone. It has a lot of features you you won't find on other feature phones, like swipe gestures, a widget home screen, great messaging and contacts, and a world-class web browser.
But that last 10% is key. The resistive touch screen may not be what disqualifies it from Android status, but the lack of Wi-Fi is an issue. The home and back keys have also been combined into one. (press quickly to go back, hold down to go to the home screen.) That alone breaks compatibility with the standard Android setup.
There is a store to buy apps, but it only contains apps that Cricket has tested and determined will work with this oddball phone; for the moment, there only seem to be a handful of games.
The actual hardware of the Chorus is small, light, glossy plastic. I'm not a fan of glossy plastic, as it attracts unsightly fingerprints like mad and generally feels cheap. The Score (the Chorus' true Android big brother) suffers from similar design issues.
At least the side keys feel good and work well.
The center button at the bottom of the front also works well; it's a shame that all it does is launch the music app. The more important menu and back/home keys are odd little resistive touch keys. You have to train yourself to press in the right place and with the right amount of pressure to operate them, and even then they can be tricky. That's unfortunate.
The screen isn't great, but it's not awful for a low-priced feature phone. The resistive touch screen works better than expected; swipe gestures worked reliably for me.
Of course the headline feature for Cricket is the Muve Music app. Muve is a neat music service that we've written about before.
There are some odd choices in what apps they've loaded on the Chorus. There's the full Android web browser, Documents To Go, calendar, voice recorder, video player, file browser, and even a task manager to kill runaway apps (like a real smartphone). The camera app is stock Android 2.3, and the gallery even has the neat 3D effects of the standard Android Gallery app.
But there's no email app. At all. At least that we could find. That's very odd. And social networking apps are nowhere to be found, pre-loaded, nor available for download.
If you've used a true Android phone before, you probably won't be switching to the Chorus, but on the off chance you do, you'll feel right at home. Most things look and work just like an Android phone. That's not a bad thing. Everything's laid out in a reasonably sensible way, and you have that neat home screen system. What other feature phone lets you mix widgets, app shortcuts, and contact shortcuts on multiple customizable home screens? There's also the notification shade, and all of those (solid) standard apps I mentioned above.
In the weird way the phone industry works, the Chorus hasn't technically "launched" yet, a distinction we're a bit miffed by, since it's already officially on sale through some channels.
Can browse WAP 2.0?
I agree that too many key features are missing from this phone to make it workable.

As a fallback, does my Cricket mobile web access (not 3G, just PayGo mobile web access) have any use for browsing on this phone? In other words, is the browser compatible with that sort of data access?

I'll try to add more detail since I am unfamiliar with the precise terms -- the mobile web access that Cricket provides is text-based, I think, and is usually surfed via Openwave browsers, and is text-based, I think.
Thoughts?
So what do people think of this Android-but-not type of phone? I think it's fascinating, personally. Google has put this powerful software out there, as open-source, so manufacturers can do whatever they want with it. It's a great way to quickly and easily put out a very powerful feature phone, leveraging existing in-house talent for developing Android hardware and software.

I wonder why we don't see more phones like this. It's win-win. Manufacturers can make much better feature phones for far less development cost. It makes it easier for carriers, too, who can put their custom carrier apps on phones like this, re-using most of the code they use for their full Android phones.
I get that it would make for an extremely robust feature phone, but I don't really get the purpose in removing features like the Android market. Is it so they can put cheaper hardware into the device without having to worry about compatibility? Or doe...
(continues)