Hands On with the ZTE Warp for Boost
Article Comments 13
Nov 7, 2011, 7:15 PM by Rich Brome @rbrome
updated Nov 9, 2011, 4:08 PM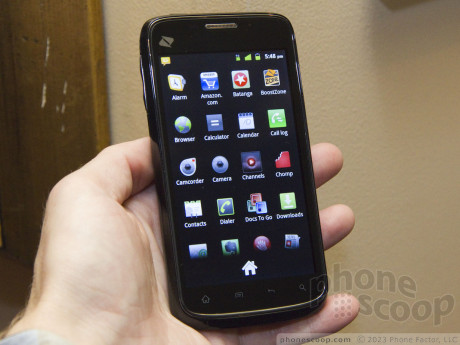 The Warp is ZTE's first phone for Boost, and a part of Boost's new and growing lineup of Android phones. Like all Boost phones, there's an emphasis on affordability. However, the specs aren't bottom of the barrel. Read on for our first hands-on impressions from the launch event.
Advertisements article continues below...
ZTE has made major inroads into the US market in recent months, including phones with AT&T, Cricket, and now Boost. The Warp joins the Avail (for AT&T prepaid) and Score (for Cricket) in ZTE's Android lineup in the US.
The Warp doesn't skimp on screen size. The screen, at 4.3 inches, is large and sharp; great for taking advantage of everything a smartphone can do. As expected for a phone at this price point, the screen isn't top quality, though. The contrast ratio isn't great, meaning blacks aren't very black. The viewing angles aren't great, either, so it looks pretty bad if not viewed straight-on. But that's the trade-off for a phone this affordable. ($199 with no contract.)
That's really the only noticeable trade-off. The hardware looks fine and feels nice. The phone feels very light, yet still solid. It's all-plastic, but everything fits well and the soft rubber-ish back feels nice in the hand. The touch keys across the bottom aren't lit, which will no doubt annoy anyone using one in dim situations, but otherwise they work fine. The volume and lock keys feel good and work well. The camera key is overly sensitive, but it's two-stage, (press half-way to lock focus), and many competing phones lack a hardware camera key, so at least it's there.
The 5-megapixel camera seems to work well, with auto-focus. There's an LED flash, but video capture is not HD. The camera interface is standard Android, but a brightness control appears right in the viewfinder, which is handy.
The overall interface is 95% standard Android. But you'll find Boost's iD Pack system on board, and featured front and center with a shortcut right at the bottom of every home screen, where you'd normal find the Browser icon. (Yes iD is originally a Sprint service, but remember that Boost is actually a division of Sprint.) This cross-branding is new, but smart. The in-your-face promotion of the iD service is obnoxious, though.
The performance is decent thanks to a 1 GHz processor. Most phones this affordable aren't that fast; the speed is appreciated.
The Warp is already on sale with Boost, which has an exclusive on this phone through March 2012.