HTC Vivid Boasts LTE for AT&T, qHD Display, and 8MP Camera
Article Comments 9
Oct 31, 2011, 9:05 AM by Eric M. Zeman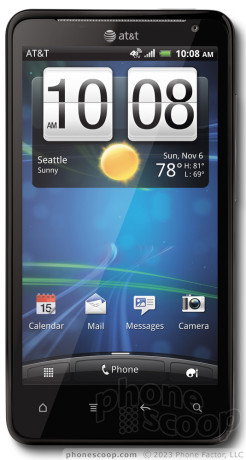 AT&T and HTC today announced the Vivid, HTC's first Long Term Evolution 4G smartphone for AT&T's growing LTE network. The Vivid will run Android 2.3.5 Gingerbread with HTC's Sense software. It features a 4.5-inch qHD display (540x960 pixels); 1.2GHz dual-core processor; 8-megapixel camera with f2.2 28mm wide angle lens for low light photos, 1080p HD video capture at 60 frames per second; and 16GB of built-in storage and support for microSD cards up to 32GB. The HTC Vivid will arrive in AT&T retail stores and online November 6 for $199.99 with a new two-year commitment.
You will also notice
How AT&T didnt pump out an LTE phone ASAP because the phone isnt a brick and the battery life is significantly better then other carriers LTE line up. Sometimes the one who does it first isnt the best.
Unlike Verizon at least AT&T gets the price right
Hopefully now Big Red will end this $299 bull$hit now that they see AT&T not doing it.
Verizon didn't get where they are right now by charging less....
Thanks
Thanks, at&t and Verizon for following Sprint's leadand introducing a copy of the HTC Evo line!