Hands-On: Nokia Lumia 800 and 710
Lumia 800 Lumia 710 Comments 18
Oct 26, 2011, 8:00 AM by Eric M. Zeman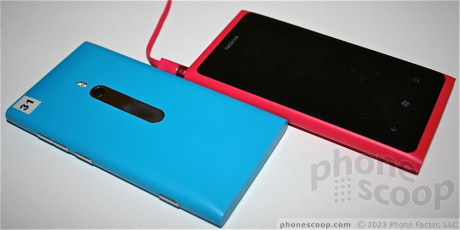 Phone Scoop goes hands on with the first Windows Phone 7.5 Mango smartphones from Nokia: the Lumia 800 and Lumia 710
source: Nokia
The Lumia 800 is perhaps the most beautiful Windows Phone smartphone ever designed. That's probably because it looks a lot like the impressive Nokia N9, a stunner in its own right.
The Lumia 800 is a solid phone that is milled from a single block of polycarbonate. The materials feel excellent. The front has a (slightly) curved glass display and the overall fit and finish is top-of-the-line. Everything about the 800 exudes style, class, and sexiness.
When I first held it, I was surprised at the size. Though it has only a 3.7-inch AMOLED display, it is heavy, and a bit thicker than I wanted it to be. It isn't anywhere near fat, but it's not RAZR thin, either. It will slip into pockets, no doubt, but you'll know it is there.
The buttons and external controls feel great. The volume toggle and dedicated camera buttons on the right edge feel excellent, with perfect travel and feedback. The 3.5mm headset jack is on the top edge, and the SIM card port and microUSB ports are hidden under separate hatches on top, as well. These are a bit of a hassle to deal with, and I'd prefer if they either didn't have the hatches, or were located somewhere else. Alas, that is not the case.
The display measures a respectable 3.7 inches across the diagonal and offers the typical WVGA 800 x 480 resolution. The display is made of AMOLED technology, and boasts the Nokia ClearBlack technology. Fancy names asaide, it looks fantastic. The colors popped off the screen, everything looked razor sharp, and the blacks are the blackest I've seen on a smartphone.
As for the user interface, it is pretty much stock Windows Phone. The Live Tiles looked great on the AMOLED ClearBlack display, and they were updating constantly. Despite the single-core 1.4GHz S2 SnapDragon processor, the phone felt speedy and never slow.
Nokia is shipping the Lumia 800 to some of its key European markets in November, and will slowly ship it elsewhere during December and into 2012. As for U.S. support, the version announced today is a tri-band 900/1900/2100MHz device. Nokia said it will make its North American market plans known in early 2012.
A 37-inch screen on the 710?! What are you thinking Nokia?!
The Lumia 710's display is the same size and resolution of the 800s (37-inches, 800 x 480 pixels)...
And I thought the evo was too large...
If this is the best Nokia can do, then they should quit
Seriously, this is ridiculous. They have getting their butts kicked for the past 3 years in the smartphone market and this is the best they can do ? Has nokia ever heard of diversification ? HTC got it, Samsung got it, but Nokia just doesn't get it. Why does nokia think they can outsell all the other OS's when windows 7 has been selling miserably by HTC and Samsung over the past year ? This has nothing to do with which OS is better at this point. Big corporations are about making money, and making money only. So what would nokia have lost if they were to sell both Android and Win7 ?

The answer is that they wouldn't have lost anything and instead, NOkia would most likely own the Android market with their superior hardware. Most Nokia emp...
(continues)
sell what sells, and trash the rest.
Because Nokia Windows Phone 7 handsets aren't selling that well?
You know, with that mentality, the only phones would be Android or iPhone. Why not get on with an OS that gives people another option? Everyone doesn't want or like Android or iPhone.
iPhone or Win?
I really want a windows phone but I've already started to get all my content on iTunes.

It kind of sucks that all the software is so fragmented which makes the consumer "commit" to a specific OS.

I would feel more comfortable having all my content with iTunes because its dependable. I would love to one day get a Mac book air, and a tablet (iPad perhaps), and an iPhone to keep everything on one OS which the advantages would be to keep my content interchangeable.

Downside? Apple is expensive, and I really like this Nokia relationship with Microsoft, but my question is, How committed are they? If I decide to go with windows for all of my content, will I be sorry in the long run?

😕
Too much effort and money has been put into this. It's not like MS pet project the Kin phone. This is something that has been well thought out and executed. So far, MS seems to have have a handle on the update fragmentations from updates, unlike Andro...
(continues)
impressed.
The Lumia 800 looks really really really nice. Any word on a U.S. release date?
hey, I know you are an iPhone fan and was wondering if you can share some advice on a problem of mines. If you don't mind could you answer my concern of mines, do you think Windows would be worth the investment in the long run or will they give up qui...
(continues)
If only they ran Android...
They might be worth a look. Appears to be decent h/w, but brain-dead software...
I agree, they should have just made an Android and jump on the band wagon. It would have saved them much faster then windows will.
Nobody would care at all if this phone ran on Android, in fact, it would be suicide for Nokia to even consider. The spec-heads would riot! "no dual-core'" "no huge screen'" "no robotic arm that comes out of the screen and types for you!"

These phon...
(continues)
removable battery?
The 700, does it have a removable battery? I keep reading where they say it's just one block and i don't see any back panel or anything to remove the battery.