Sprint Debuts Android-Based Motorola Admiral
Article Comments 16
Oct 20, 2011, 10:09 AM by Eric M. Zeman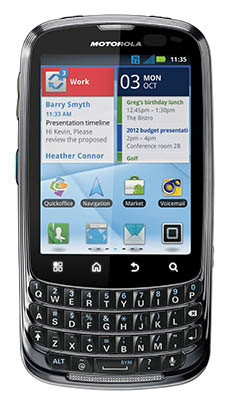 Sprint today announced the addition of the Motorola Admiral to its roster of CDMA-based DirectConnect handsets. The Admiral is the first Android 2.3 Gingerbread handset to take advantage of Sprint's DirectConnect service, says the carrier, and it features a 1.2GHz processor, 3.1-inch VGA display, QWERTY keyboard and 3G. Other specs include a 5-megapixel camera with flash and 720p HD video capture, mobile hotspot for up to five devices, Wi-Fi, and 4GB of internal memory and support for microSD cards up to 32GB. It is compatible with Sprint's full offering of DirectConnect services. The Admiral can be preordered via Sprint.com, Sprint retail stores, and Sprint's business channels starting October 23. It will be available across all Sprint's channels November 13. It costs $99.99 after $50 mail-in rebate with new two-year agreement.
For anyone who say's this keyboard is blatently ripping off of the blackberry keyboard,
You are wrong. Dead wrong.

This is an Android phone, and there is no way an Android manufacturer would ever copy a competing manufacturer.

Android is unique and origional and just, well, the absolute best.

Eat your heart out iPhone 4, this thing has a keyboard!(and ANDROID!!!! open source ftw!)
Ok android fanboy which by the way im a newbie to the iphone with my 4S & am now converted. But no matter how much you love Android, how can you honestly say or think that they havent copied any ideas? They originated android by copying from apple! He...
(continues)
HE'S TROLLING. Don't give him the satisfaction of a response.
Looks interresting
If your not a fan of the new Blackberry Bold this might be an option. I think it's interesting Moto put the speaker on the front rather than the back like EVERY other phone. Possibly for better speaker phone performance. And the XPRT & Droid Pro keyboards aren't that bad. It just seemed to me those weren't the best quality Moto's put out. But the Admiral looks like Moto may have actually taken that design seriously.
andy2373 said:
.... I think it's interesting Moto put the speaker on the front rather than the back like EVERY other phone. ....
A number of Moto's recent iDEN phones (which of course are all speakerphones due to ha...
(continues)
Wow!!!
I'm really impressed by the specs and the price for this phone. Not too long ago Motoral released the Titanium which currently is on sale for $170 after MIR and the specs have nothing on this phone coming out. Hopefully the sprint direct connect works as well as nextel direct connect so walkie talkie customers finally can have good internet too.
good job
since motorola did such a great job with the photon and the xprt... lets see how well this thing sells...