Hands-On: Samsung Stratosphere for Verizon
Article Comments
Oct 11, 2011, 4:07 PM by Rich Brome
updated Oct 12, 2011, 3:00 PM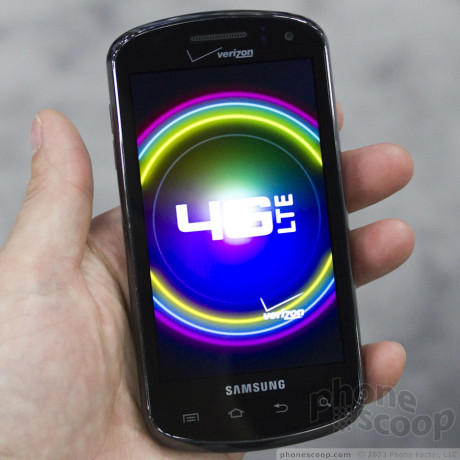 The Samsung Stratosphere is the long-overdue first 4G LTE phone for Verizon with a QWERTY keyboard. It also has pretty standard specs and features for Verizon's 4G LTE lineup. Read on for our hands-on first impressions.
The headline feature - the keyboard - is very roomy, with a full five rows and plenty of space between the keys. It's very wide, and still have room at the ends for physical Android keys (menu, home back, etc.), which is very handy in landscape orientation. The QWERTY keys are very flat an slippery, so they don't feel great, but they have enough spacing and just enough tactile "click" to them, that it's quite easy to type on.
The overall feel of the device is very high-quality. It's fairly average in terms of size and weight, for its category. If anything, it's on the slim side for a phone with a slide-out keyboard, which is nice. The spring-loaded sliding mechanism has a nice action to it, although the thin, sloped chrome sides are an unfortunate shape that makes it slightly difficult to slide open in a hurry.
There's no dedicated camera key, which is a shame. The lock/unlock key is on the right and not very easy to use. That's a shame, since it's the one button you'll use most often. Samsung seems to have an issue getting that right on many of its phones. The volume keys are a bit better.
The screen is last-generation Super AMOLED, (not the newer Plus type,) so it has a visible "PenTile" pattern to the pixels if you look very close and/or are bothered by that. If you don't mind PenTile or don't even know what that means, it's a great display, with the super-vivid, saturated colors that OLED displays are known for.
The interface is typical of Samsung Android phones this year. You'll find the side-to-side app menu (the one Apple is suing Samsung for, for being too much like the iPhone.) You'll also find a great Samsung camera interface with lots of on-screen controls and an automatic panorama mode that lets you just "sweep" the phone in any direction to capture a huge panorama photo, stitched together for you right on the phone.
Overall, our first impression is that it seems like a solid entry. It goes sale with Verizon this week.
No messages