LG myTouch and myTouch Q Hit T-Mobile
Article Comments 3
Oct 5, 2011, 11:18 PM by Eric M. Zeman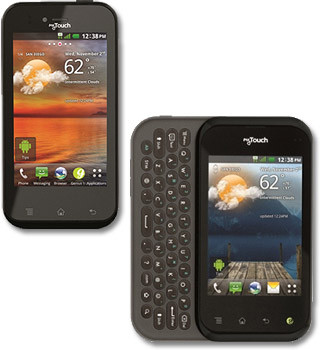 T-Mobile today announced the addition of two new phones to its myTouch stable, the LG myTouch and myTouch Q. Shared features between the phones include: Android 2.3 Gingerbread, 1GHz Qualcomm processor, 5-megapixel camera with 720p HD video capture, and user-facing cameras for video chatting.
myTouch: This slab-style phone includes a 3.8-inch display and Swype's software keyboard for messaging. It will come in black or white.
myTouch Q: This sideways slider has a 3.5-inch display and a physical QWERTY keyboard for pecking out messages. It will be available in gray or violet.
T-Mobile said that both phones are ideal for first-time smartphone customers. They both include the Genius Button (which is a voice-controlled search tool) and both can access T-Mobile's "4G" network, though T-Mobile didn't say at what speeds. Both the LG myTouch and myTouch Q will be available in time for the holidays.
Did they run out of names ??
Seriously, is there a name shortage or something with t-mobile. First they came out with the myTouch 3g from htc. Then there was the Mytouch with headphones slot because the original lacked it. Then the mytouch fender edition which had more ram or something. So far the count is 3 different phones just from HTC so far. Then, they release the mytouch slide. Afterwards, the mytouch 4g and the 4g slide are released. So the count now is 5 mytouch phones all from htc.

Then the genius' at TMO decide that having 5 devices of mytouch from one manufacturer isn't confusing enough, they decide to release a series of devices from a COMPLETELY DIFFERENT MANUFACTURER (LG) and also call them MYTOUCH.

WTF
It's about branding and trademarks. It's no different from Verizon slapping the word Droid on Android phones or Apple putting a lower case "i" in front of everything.
Not really. MyTouch is a branding series with specified features (Genius Button).
The situation is like nexus (pure Android) or Xperia (with TimeScape).