Virgin Mobile Lands HTC Wildfire S, LG Optimus Slider
Article Comments 1
Sep 30, 2011, 9:45 AM by Eric M. Zeman @zeman_e
updated Sep 30, 2011, 10:47 AM
Updated: added bluetooth details, added reference to LG Enlighten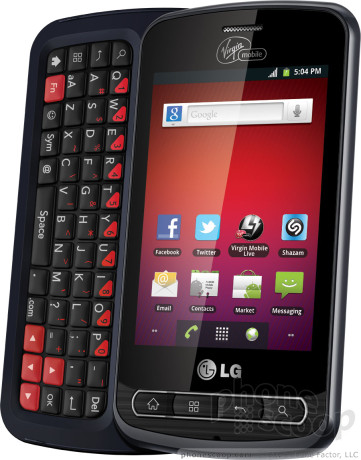 Virgin Mobile USA today announced the addition of two Android handsets to its pre-paid lineup, the HTC Wildfire S, and the LG Optimus Slider. The Wildfire S will be Virgin Mobile's first device from HTC. It was announced earlier this year. The LG Optimus Slider (pictured) is a rebranded version of the LG Enlighten, and as the name implies is a sideways slider that offers a full QWERTY keyboard. It has a 3.2-inch HVGA display, 3.2-megapixel camera with autofocus and flash, Bluetooth 3.0, and support for microSD cards up to 32GB. It runs Android 2.3 Gingerbread. The HTC Wildfire S will be available October 23 at Best Buy and RadioShack for $199.99. The LG Optimus Slider will be available October 17 from Virgin Mobile's web site for $199.99; October 31 in Best Buy and RadioShack stores; November 6 at Target; and November 13 in Sprint Stores.
Virgin Mobile USA / Sprint »
Virgin Mobile USA / Sprint »
Correction needed.
There's no flash with the camera on the Optimus slider unless they made it diff then Verizon's version called the enlighten, which has no camera flash either. So dumb to me when they do not include a flash for the camera that has become a must for me.