HTC Rhyme for Verizon Focuses On Usability and Reason
Article Comments 2
Sep 20, 2011, 9:10 AM by Eric M. Zeman
updated Sep 20, 2011, 6:38 PM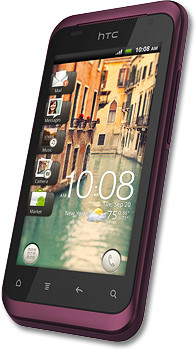 HTC and Verizon Wireless today announced the Rhyme, a new Android 2.3 Gingerbread smartphone. HTC explained that the idea behind the Rhyme was to keep people in touch with those they want, while offering a pleasing tactile experience in the hand, with clean and simple lines. It will ship with a magnetic inductive charging dock, tangle-free headphones, and a charm. When in the dock, it has a new bedside mode that offers a large clock and easy-to-see notifications. Other accessories include a sports armband for those who are active. The charm will offer notifications when the phone receives an incoming message or call by pulsing. The Rhyme features the newest version of the Sense user interface. The camera can be launched from the lock screen. The camera features new software and hardware to increase the speed and accuracy of the camera. It also includes auto-Facebook uploads that will work in the background. The Rhyme features a 3.7-inch WVGA display, 5 megapixel camera with autofocus and LED flash; Wi-Fi, Bluetooth, GPS; and 3.5mm headset jack. It will be sold globally, and via Verizon Wireless in the U.S. It will be available September 29 across Verizon's retail stores and and web site for $199.99, which includes the docking station, headphones, and charm. It will also be available from Target.
source: Verizon Wireless
Advertisements article continues below...
No messages